CHURCH NEWS - May 2010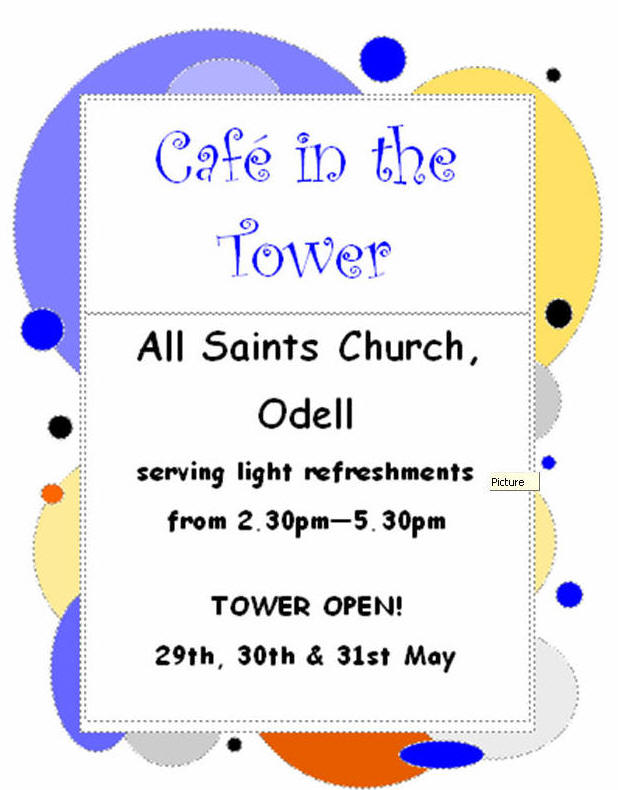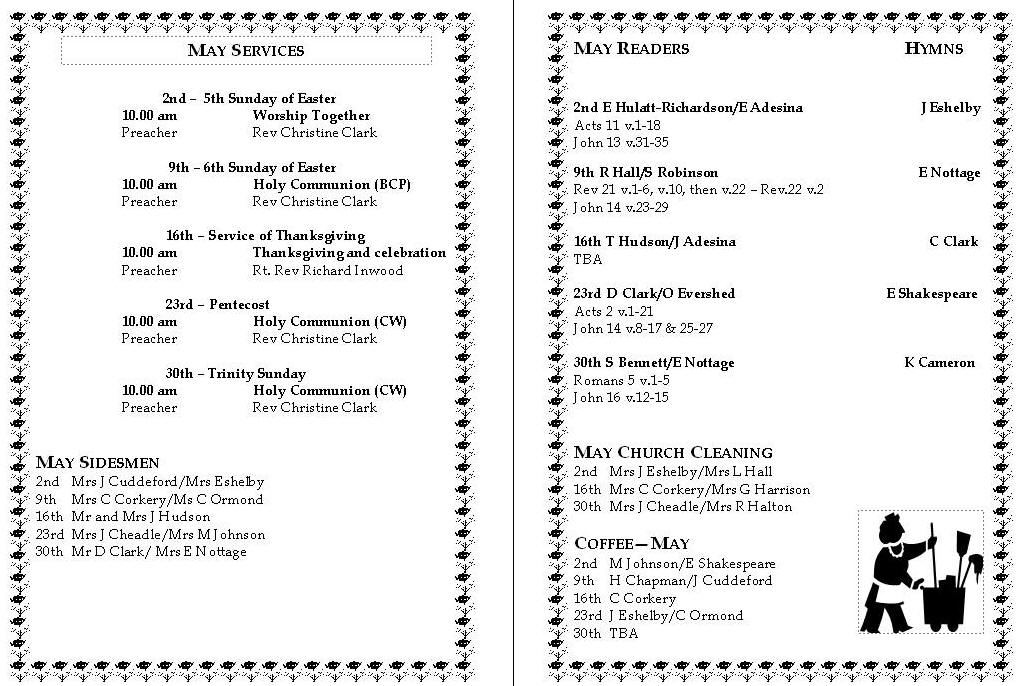 May 2010
Dear Friends,
As David and Christine are taking a well-earned break in Turkey, touring the ancient churches there, Christine asked me to write the introductory letter this month.
It is said that all great journeys start with a single step. The great explorers of the past set out not knowing where they were going, or what they would find when they arrived; their journeys were acts of faith.
Although not such an intrepid journey as some, the tea-point and toilet project was, for us, a journey into the unknown. We had waited a long time for one of the most basic, but essential, facilities to be installed in the church. It had been discussed many times over many years but, somehow, that first essential step had not been taken. No one had had the courage, or faith, to commit to it.
Very soon after Christine's arrival at Odell, the proposal was raised again. This time, perhaps because we had a lady at the helm, that first step was taken. Drawings were produced and estimates of costs made; the results were daunting for a small village church. It would have been easy at this stage to abandon the idea as beyond our abilities, but that is where faith comes in. If the church at Odell was to survive, it had to move into the 21st century and to do so it had to conform to the basic essentials required of all buildings for public use in today's world, one of which is to have a toilet. To raise the money necessary to carry out the project meant applying for grants from charitable bodies, and that opened our eyes to the requirements they imposed upon us if they were to provide us with a contribution to the funds. A common theme was that the church had to be made accessible to a much wider community than just its own congregation; it had to be used for more than Sunday services and the occasional wedding, christening and funeral. The project has opened our eyes to a very different role for the church in the parish and the community. Not only shall we continue to provide services for the spiritual needs of the parish, but we shall be providing cultural and educational services as well.
Our faith in our ability to complete the building project has been vindicated. Thanks to the grant awarding bodies, generous donations from supporters of the church, many fund- raising activities and tremendous efforts from so many people, we now have a tea-point and toilet to be proud of. The Bishop of Bedford will lead us in thanksgiving for the facility on 16th May, to which all are invited.
So now the second phase of our journey starts, and this will be equally taxing. Having reached our destination we have discovered new territory that needs to be developed in order to fulfil our commitment to extend the church to the wider community. In the past year, as part of our fund-raising, we have hosted an art exhibition, a musical concert and introduced the Café in the Tower to support the village open weekends, but this is just a start. We need to attract more visitors to the village to keep Odell alive if it is to survive in times that are very hostile to rural communities. Politically, the rural communities do not seem to count for very much, our voting power is limited numerically and, consequently, the effort and enticements are mainly directed towards the urban areas. We need to look after ourselves if we are to ensure that Odell remains a full and sustainable community.
It is strange to think that the provision of a toilet in a small village church could contribute to the survival of a whole community but, in the words of the well-known hymn, "God moves in a mysterious way his wonders to perform." This year the church is planning a programme of events and cultural activities, so watch for developments as we move onwards.
With Best wishes,
Martin Eshelby, Churchwarden.
Thank you!
Walt Nottage would like to thank everyone who sent messages, gifts and flowers on the occasion of his 90th birthday in March. He was very touched by all the kind thoughts.
The Prayer Group
What is the Prayer Group? It is made up of members of All Saints' Church who undertake to pray regularly, on an individual basis, for people who ask us for prayer support.
Who do we pray for? Anyone whom we are asked to remember; these might be people from our church, from our local community or others known to us.
What do we pray about? Anything which you would like brought before God; maybe anxiety due to illness, stress or loneliness. You can also tell us of a special day you wish to be remembered – perhaps for an interview or an exam. Any information will be treated in strictest confidence.
How can you let us know if you would like us to pray for you? You can either telephone Christine (720234), or drop a note through the Rectory door, or complete a card (anonymously if you wish) and place it in a box kept near the church door. Prayer requests will be collected from the box each Sunday morning after the 10.00am service.
Christine
All Saints' Amblers
If you would enjoy a walk in the country followed by a pub lunch, do join us on our next walk. The time and date of the May walk is yet to be decided; phone Christine 720234 for more information.Transport available if required.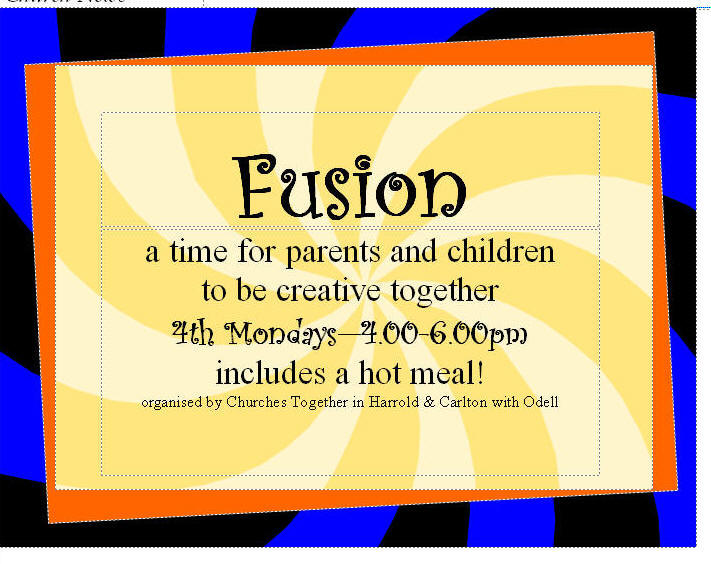 *** Fusion ***
offering you & your children time & space to come together make things together , eat together, celebrate God together
at Harrold URC, High St. Harrold
Children need to be accompanied by an adult
(doors open & snacks available from 3.30pm for early birds)
Fusion activities are free - but a donation to cover food costs would be appreciated
To register please email John at john@sundrlnd.freeserve.co.uk or ring 01234 720184 or 720234
by the Thursday before.
Christian Aid Week 9th – 16th May
Everyone deserves a decent life. Christian Aid works with the world's poorest communities in 49 countries, exposing the scandal of poverty, helping in practical ways to root it out, and challenging and changing the systems that favour the rich and powerful over the poor and marginalised.
In these poor communities Christian Aid invests in projects that provide benefits for years to come,
A donation of:
£33 could provide ten blankets and mosquito nets for families with nothing.
£48 could provide an entire month of specialist medical assistance to injured and sick women and children.
£125 could pay for nutritious, cooked meals for ten families for a week.
If you would like to make a donation, envelopes can be obtained from Jill Cheadle at Rectory Farm, or, if you prefer, you may bring the donation to church on Sunday 16th, where it will be gratefully received. Thank you.
Jill Cheadle
Meeting Point
May
12th 10.30am at Sarah's, 9 Horsefair Lane.
26th 10.30am at Catherine's, Manor Cottage, High St., Harrold.
June
9th 10.30am at Jill's, Rectory Farm, Odell.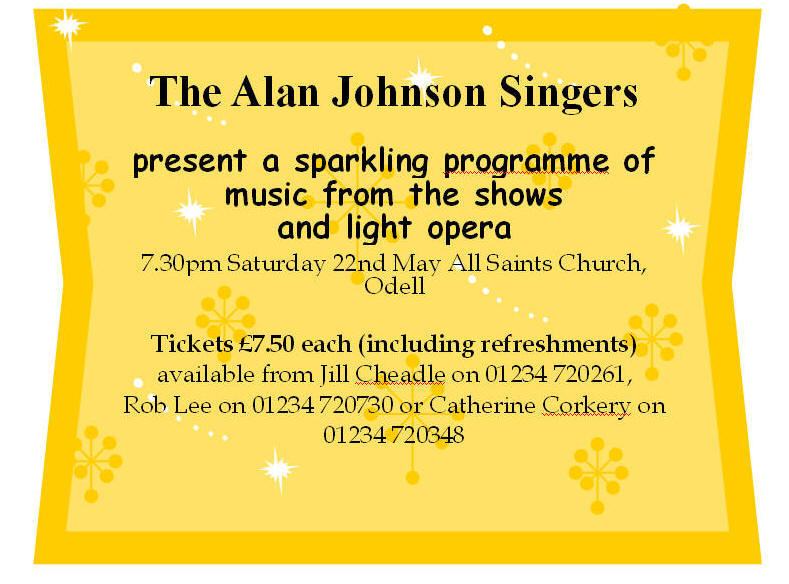 Belarus and Ukraine – Christmas Shoe Box Appeal 2009
Once again I was overwhelmed with the support from Harrold, Carlton, Odell and others further afield, in the appeal for the year. All this on behalf of Drop Inn Ministries, Isle of Man, and for the children in the residential homes in Belarus and Ukraine, and for the children in extremely deprived areas in the very poorest regions.
None of this would be possible without the assistance from Emmaus Village in providing the storage facility, and this year we were lent their Chapel for checking and making up the shoe boxes. A huge number of ladies once again joined with us daily to work through all the boxes; on one day we had twelve volunteers. The end result was over 500 superb boxes, bulging with the gifts given, and donations of £1,292.36. Our part of the project was then complete – the Drop Inn Ministries lorry was loaded, again with the help of Companions from Emmaus, and left Carlton. Their journey was to Rivne, on the doorstep of Chernobyl, where it is estimated at least 3,000 very needy children live in areas of extreme social deprivation. En route the lorry was held up at the Ukrainian/Polish border at temperatures of -13 degrees for three days with the drivers sleeping in the freezing lorry, but I am told-
"The face of every child and family who received gifts was incredible and joy filled their eyes. They were truly thankful……Your generosity and support has made this most needy trip happen. Thank you. May the Lord continue to bless you all as you continue to serve Him through Drop Inn Ministries".
Thank you everyone who made this happen, and I look forward to your continued support in the coming year.
Sue Brown
Café-in-the-Tower
The Summer season of 'Café-in-the-Tower' All Saints Church, Odell begins over the Bank Holiday weekend, 29th, 30th & 31st May. Drop in between 2.30-5.30pm to sample a delicious range of cakes and cookies to go with your favourite cuppa. The church tower will also be open; the panoramic views from the top are well worth the climb. Step up to the challenge!
Service of Thanksgiving and Celebration for the new facilities at All Saints' Church, Odell
Sunday 16th May 2010 at 11.00am
We have great pleasure in inviting you to celebrate with us at a special service which will be led by
the Right Reverend Richard Inwood, Bishop of Bedford.
The service will be followed by an informal buffet lunch.
We do hope that you will be able to join us, and if you would like to stay for lunch, it would helpful if you could ring
Jill or Catherine on 720261 or 720348 to let us know.
Ouse Valley Singers and Muse and Music Concert
Saturday 15th May 2010, 7.30pm
St Mary's Church, Felmersham
Tickets £7.50 (includes interval drinks)
Available in advance from 1 Trinity Close,
Felmersham (tel: 781381) or on the door
The Concert will consist of a varied programme of light music, some spirituals and a few comedy songs performed by Muse and Music.
Odell Village Fete And Dog Show
Saturday 12th June 2.00pm
Theme: 'Time for Tea'
(In the Scout field, Horsefair Lane, Odell)
Entry: Adults £1.50, Children Free
Programme of events
2.00 pm Grand Opening
2.00-4.00pm Dog Show
4.00pm Raffle Draw
Attractions
Wode-Hill One-Steppers Jazz Band
Boys Brigade
Teas Ice Creams
Tombola Cakes Books Refreshments Bottle Stall Coconut Shy Children's Sports
White Elephant Raffle
Produce Gifts Many Side Shows
Dog Show
FAMILY DOG SHOW
(entry fee - £1 per dog per class)
Classes:
1. Children's Handling (14 years and under)
2. Puppies under 1 year
3. Country Sporting Dog or Bitch
4. Best Rescue or Re-homed Dog or Bitch
5. Best Condition Dog or Bitch
6. Dog or Bitch with Most Appealing Eyes
7. Best Cross-bred Dog or Bitch
8. Most Handsome Dog
9. Prettiest Bitch
HELP will be needed to set up fete stalls on the afternoon of Friday 11th June, and then dismantle everything after the fete has ended on Saturday 12th. Please come and join in!
Fete Committee Painting Day
Painting of signs etc. for the fete will take place at Jim and Doreen Wheeler's, Linden House, High Street, Odell, on Monday 3rd May from 10.00am.
There will be a lunch time bar-b-q for helpers – please let Doreen know (720358) or Jane (01933 410959) if you wish to stay for this. Bring your own meat. Salad and puddings will be provided.
The Children's Society
Thank you to everyone who holds a Children's Society box. Between us this year we have raised £232.37, about £10 less than last year, but considering the current economic climate I don't think that's too bad. Thank you all.
Catherine Corkery - 720348
Tea Point and Toilet Fund-Raising:
Coffee Morning
There will be a Coffee Morning at Rectory Farm on Saturday May 15th from 10.30am in aid of the Tea Point Appeal. Bedding plants and tomato plants will be on sale; there will be a Bring and Buy and a Raffle. Everybody welcome.
If anyone has 3" or 4" pots to spare I would appreciate some.
Jill Cheadle
Our Giving in May is to The Church Army.
The Church Army is an International Evangelical Movement, based on Biblical teaching, with a mission to meet human needs, without discrimination, in the name of Christ. Their far-reaching work includes preaching the Gospel, working in hospitals, prisons, eventide homes, hostels and counselling, to name but a few examples. Wherever there is poverty or need, the Church Army is there. Please give generously to this movement which is very generous with its time and love.
All Saints' Flower Rota
May
2nd Caroline Scott
9th Rachel Halton
16th Jill Cheadle
23rd Carol Ormond
30th Jeanette Roche
Diary
1st 6.30am Dawn Chorus Bird Walk HOCP
3rd 10.00am Fete Signs Painting Day Linden House, Odell
9th 12noon Meadows Children's Centre Launch Party Sharnbrook Upper School
11th 7.30pm WI Village Hall
12th 10.30am Meeting Point at Sarah's, 9 Horsefair Lane
13th 10.30am Health Walk HOCP
15th 10.30am Coffee Morning Rectory Farm
15th 7.30pm Ouse Valley Singers & Muse & Music Concert, St. Mary's, Felmersham
16th 11-00am Service of Thanksgiving at All Saints', Odell
22nd 7.30pm The Alan Johnson Singers, All Saints' Odell
24th 10.00am HOCP Conservation Tasks Day
26th 10.30am Meeting Point at Catherine's, Manor Cottage, Harrold
27th 10.30am Health Walk HOCP
29th 2.30pm Café in the Tower, All Saints'
30th " " " " " "
31st " " " " " "
Magazine Deadline
Please send all entries for the June 2010 magazine to Tricia Hudson (mag1 at odellbeds.net) or Catherine Corkery by May 12th at the latest. May we remind you that the editorial team exercises the right to edit, shorten or alter any items that are submitted. Also, the opinions expressed in the articles are those of the contributors and are not the responsibility of the editorial team.
---
Last revised: May 02, 2010.