CHURCH NEWS - June 2010
Cafe in the Church Tower/ Tower trips - May Bank Holiday weekend (scroll to bottom for more details)
Odell Fete - Saturday 12th June - 2.00pm
Festival Weekend Family Service Sunday June 13th
11.00am in the Main Tent at the Fete Field
Everybody Welcome to this service for all ages, followed by a BBQ for stallholders & village residents from 12.30pm.
Remember to bring your own cutlery & plates!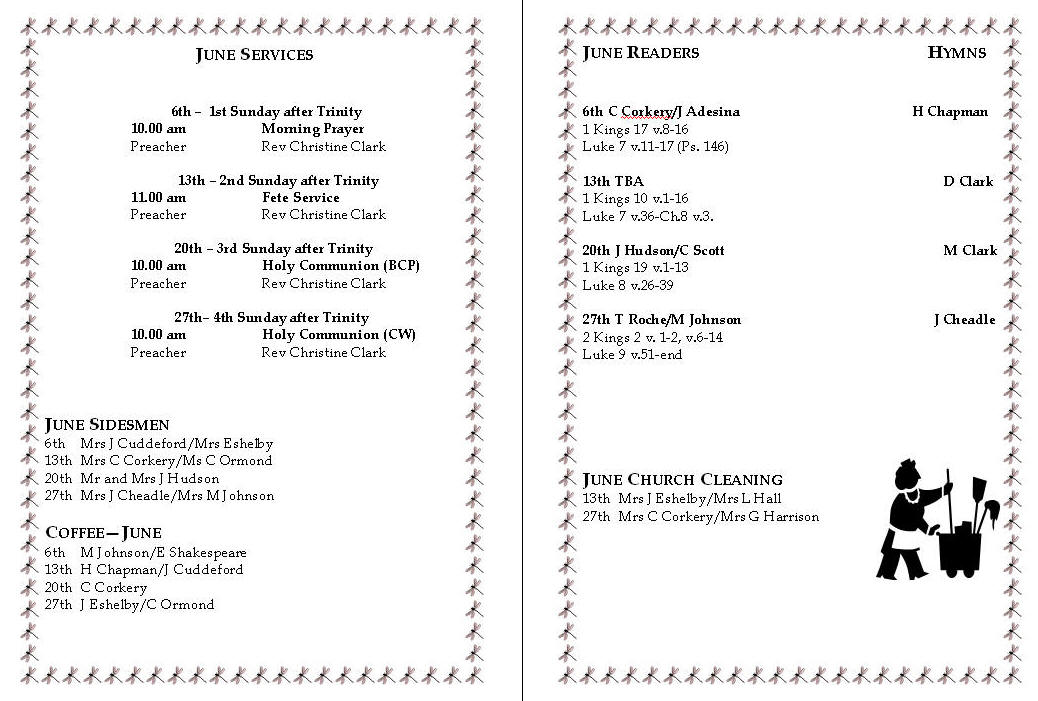 Dear Friends,
Travel, they say, broadens the mind. David and I have come back from a 1,000 mile trip through Turkey with our minds pretty well stretched at all the wonders we've seen – the many fascinating and different faces of Istanbul, the scale of the 6th century Aya Sophia with its beautiful mosaics, the stunning tiles and wall paintings of the Blue Mosque, the jewels of the Ottoman empire, the sights and sounds of the Grand Bazaar, the size of the cities, today and in the 1st century, many glimpses of village life surrounded by snowcapped mountains, great agricultural plains, olive and orange groves, new foods to taste and wonderfully warm, welcoming people everywhere we went.
It was so moving to visit each of the seven ancient churches of Asia, to walk where Paul and Barnabus, St.John and many others had walked before us. As we read the New Testament passages we became freshly aware of their experiences, and felt them reaching down through the ages to touch our own. In all of this, we were expertly guided by Cenghiz our Turkish guide, and Bishop John Went of Tewkesbury who led our daily reflections and worship.
What a huge difference having a guide made to our understanding and enjoyment, as Cenghiz shared his wide knowledge of the history, geography, and development of his country along with many stories, and Bishop John explained the issues St. John was addressing in his letters to the seven churches in the 1st century (see Revelation Chapters 1-3). An already rich experience was deepened and broadened on so many levels.
As we journey through life, we encounter a myriad of experiences and try to understand them in the context of our culture and the circumstances of our own lives. It can all become confusing at times, especially as we grapple with issues of faith. How helpful and beneficial to have a guide, whether this is a mentor, a wise friend, or just someone who can listen objectively to our concerns and questions and help us to discern where we are going.
Spiritual direction has always been available through the church, but today an increasing number of people are requesting this service – ie. someone who will take time to listen to their story, walk with them, and help them understand what they are experiencing in daily life in the context of faith. If you would like to know more about this, please get in touch and I will be pleased to help you find a spiritual director you can relate to. Christine.
The Prayer Group
What is the Prayer Group? It is made up of members of All Saints' Church who undertake to pray regularly, on an individual basis, for people who ask us for prayer support.
Who do we pray for? Anyone whom we are asked to remember; these might be people from our church, from our local community or others known to us.
What do we pray about? Anything which you would like brought before God; maybe anxiety due to illness, stress or loneliness. You can also tell us of a special day you wish to be remembered – perhaps for an interview or an exam. Any information will be treated in strictest confidence.
How can you let us know if you would like us to pray for you? You can either telephone Christine (720234), or drop a note through the Rectory door, or complete a card (anonymously if you wish) and place it in a box kept near the church door. Prayer requests will be collected from the box each Sunday morning after the 10.00am service. Christine
Odell and its History
I would like to add a couple of points which the Residents of Odell might like to know, following Barbara Corley's excellent Millennium book about the History of Odell. Barbara's articles in the Odell magazine are also excellent and informative. I would add also that I have played the organ several times at Odell church.
I recently plotted the numbers on the Electoral Roll of all the churches in the St. Alban's Diocese (and incidentally those for the Peterborough Diocese also). It is interesting to note from the St. Albans Directory that Odell actually comes top overall for the ratio Electoral Roll/Population! This means that those supporting the Church in Odell when compared with the population of Odell, is the highest among the Counties of Bedfordshire and Hertfordshire! The survey generally shows that the villages have the largest church support in these Counties. By comparison large churches in Bedford, for example, yield a smaller ratio by quite a long way, because they are positioned within much larger urban population areas.
The other point I would make relates to the Millennium book's acknowledgement of the previous three books on the Pictorial History of Odell. The photography for the books was carried out by my son Andrew, and the various accounts greatly benefited from the inputs of many local residents, too many to enumerate here, but included Odell Parish Church and Council, Florence Shellard, Peter Coleman, Tom Hudson, Martin Eshelby, Lord Luke, the Surridges, the Rev Anthony Wells and Richard Manton. At that time Andrew was a pupil at Sharnbrook Upper School, and he now lives in Sharnbrook.
John Crookall, Harrold, then Bozeat
The meaning of purpose and focus

In life it is good to have purpose, each one of us needs fulfilment whether it be a job that we have chosen, rearing a family or caring for someone who is ill or a lifetime of giving needful help and guidance tosomeone, a person, child or a parent . All of which gives us structure, purpose and a feeling of achievement. Being human and in spite our trepidations, dismay or disquiet we must carry on because our love and devotion demands it. We may sometimes long for a change of circumstances, in the quietness of our minds we really would not change a thing otherwise we may feel empty and without purpose or focus. It is a great challenge and the rewards have enormous satisfaction.
There is a way to carry out these tasks to the best of our ability where the love of Jesus is manifested. Sarah Bennett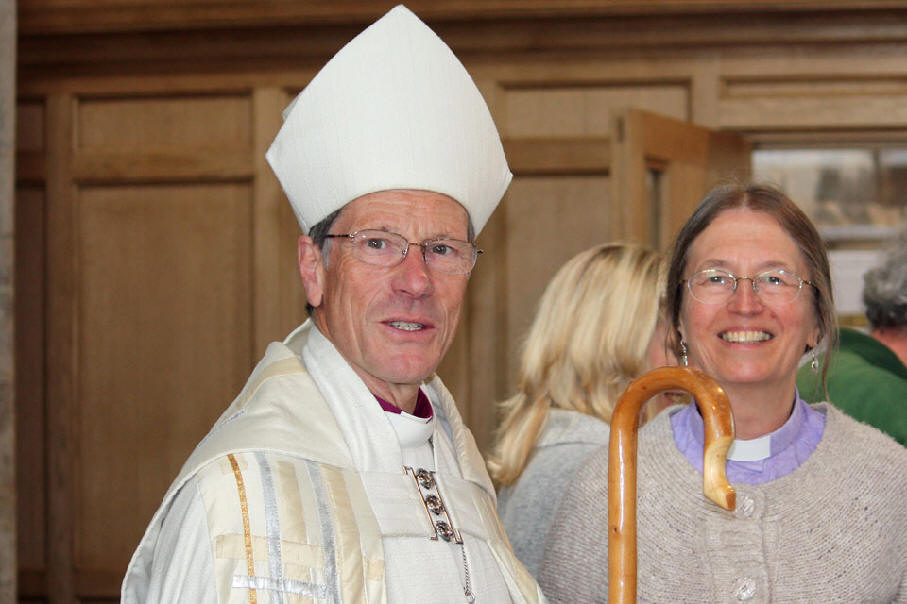 All Saints' Church Celebrates Completion of Tea-Point & Toilet with Service of Thanksgiving
On Sunday 16th May the Right Reverend Richard Inwood, Bishop of Bedford, joined a full congregation in All Saints' Church in a service of celebration and thanksgiving for the completion of the tea-point and toilet in the church. As the Bishop blessed this addition to the church, he reminded the congregation of the many people in the very many years to come who will benefit from the facility in the church and the ever-widening role of the church in the community but also the need for every human endeavour to be built upon the firm foundation of faith in Jesus Christ.
Acknowledgement was given to the completion of the project in such a short time – little over a year –which should be attributed to the very hard work of our minister Christine and also to the prayers and fund raising work of the PCC and members of All Saints' and people of the parish. Grants were also received from the National Churches Trust, AllChurches Trust, The Gale Trust, The Steel Charitable Trust and an Access Improvement Grant from Bedfordshire County Council.
Following the service everyone enjoyed wine and a buffet lunch.
All Saints' Amblers – meet outside the Bell, 9.45am on Saturday 19th June for a walk in the country followed by a pub lunch. Children and dogs on leads welcome to join us.
Café-in-the-Tower
The Summer season of 'Café-in-the-Tower' in All Saints' Church, Odell begins over the Bank Holiday weekend, 29th, 30th & 31st May. Drop in between 2.30-5.30pm to sample a delicious range of cakes and cookies to go with your favourite cuppa.
The Coffee Morning at Rectory Farm on Saturday 15th May made £365, all of which will go to the All Saints' Tea-Point and Toilet Fund. Many thanks to everyone who contributed to this total.
Jill Cheadle
National Churches Trust
Now is a good time for anyone who is passionate about churches, chapels and meeting houses to join as a Friend or to donate to the National Churches Trust. The National Churches Trust is the leading national independent body concerned with the protection and welfare of Christian places of worship throughout Britain. In 2007 the Historic Churches Preservation Trust (founded 1953) and the Incorporated Church Building Society (founded 1818) became the National Churches Trust. This new charity will help faith communities maintain and enhance the buildings in their care in practical and innovative ways. It will try to ensure that churches, chapels and meeting houses survive and flourish at the heart of their communities. Rising costs and the practicalities of fundraising are only some of the challenges faced by the volunteers managing these unique and special places.
During 2008/2009 the Trust is introducing a new grants programme and will work tirelessly to raise desperately needed funds. It will strive to raise public awareness about the challenges that local communities like your own are facing. Grants are available for structural repairs and a limited number are available for projects to install new facilities and improve access. For more details please visit our website:
www.nationalchurchestrust.org, contact our office on 020 7600 6090, or by email at info@nationalchurchestrust.org.
How You Can Help
· The Trust receives no financial aid from government or church authorities. You can help by joining as a Friend from as little as £20 per year. The Friends' Scheme is in development. The more people that join, the stronger our voice will be. Information is available on our website or by telephone.
· We are developing our Volunteers' Programme. If you are interested in giving some time to help please contact us.
· Make a donation online at our website via your credit card using the 'Give now' secure facilities provided by the Charities Aid Foundation, which enables you to increase the value of your gift, at no extra cost to yourself, if you are a UK taxpayer.
· If you would like to consider remembering us in your will, please contact the office to ask about legacies, or visit our website.
National Churches Trust, 31 Newbury Street, London EC1A 7 HU
Tel: 020 7600 6090
Fax: 020 7796 2442
Web: www.nationalchurchestrust.org
Email: info@nationalchurchestrust.org
Diamond Wedding Celebrations
On Sunday 27th June Bill and I will have been married for 60 years. What a joy it will be to have achieved such a goal, all thanks to love, prayers and perseverance from us both and a godly mother and family, and also, lately, to the support from All Saints' Church, the faithful servants of God. Thanks too to Christine and David: since coming to Odell they have achieved great heights in every aspect of their work here – thank God for them.
On the morning of Sunday 27th June, at All Saints' Church, Bill and I will receive a blessing and a prayer from Christine for God's continued love to us both. We will also have a little celebration with nibbles and a glass of bubbly. All are welcome to join us after the service. Sarah Bennett
Odell Village Fete
Saturday 12th June 2.00pm
(In the Scout field, Horsefair Lane, Odell)
Entry: Adults £1.50, Children Free
Programme of events
2.00 pm Grand Opening
2.00-4.00pm Dog Show
4.00pm Raffle Draw
Attractions
'Time for Tea'
Wode-Hill Jazz Band
Boys Brigade
Teas Ice Creams
Tombola Cakes Books Refreshments Bottle Stall Coconut Shy Children's Sports
White Elephant Raffle
Produce Gifts Many Side Shows
Dog Show
FAMILY DOG SHOW
(entry fee - £1 per dog per class)
Classes:
1. Children's Handling (14 years and under)
2. Puppies under 1 year
3. Country Sporting Dog or Bitch
4. Best Rescue or Re-homed Dog or Bitch
5. Best Condition Dog or Bitch
6. Dog or Bitch with Most Appealing Eyes
7. Best Cross-bred Dog or Bitch
8. Most Handsome Dog
9. Prettiest Bitch
The Bell will remain open during the afternoon of the fete.
HELP will be needed to set up fete stalls on the afternoon of Friday 11th June, and then dismantle everything after the fete has ended on Saturday 12th. Please come and join in!
Meeting Point June
9th 10.30am at Catherine's, 40 High St., Harrold
23rd 10.30am at Jane's, Newton House, Avenue Rd., Newton Bromswold, Rushden.
July
7th 10.30am at Doris's, Goodly Heritage, The Bury, Pavenham.
Our Giving in June is to CPAS
(Church Pastoral Aid Society).
The work of C.P.A.S. is to give aid to both churches and individuals in such wide-ranging areas as evangelising, training for clergy and laity, youth work, holiday activities for young people, provision of resources (books, courses etc.), working with older people and specialised ministry to both men and women. However, their primary goal is supporting the mission of the local church in taking the gospel to the poor. Please give generously to this worthwhile charity.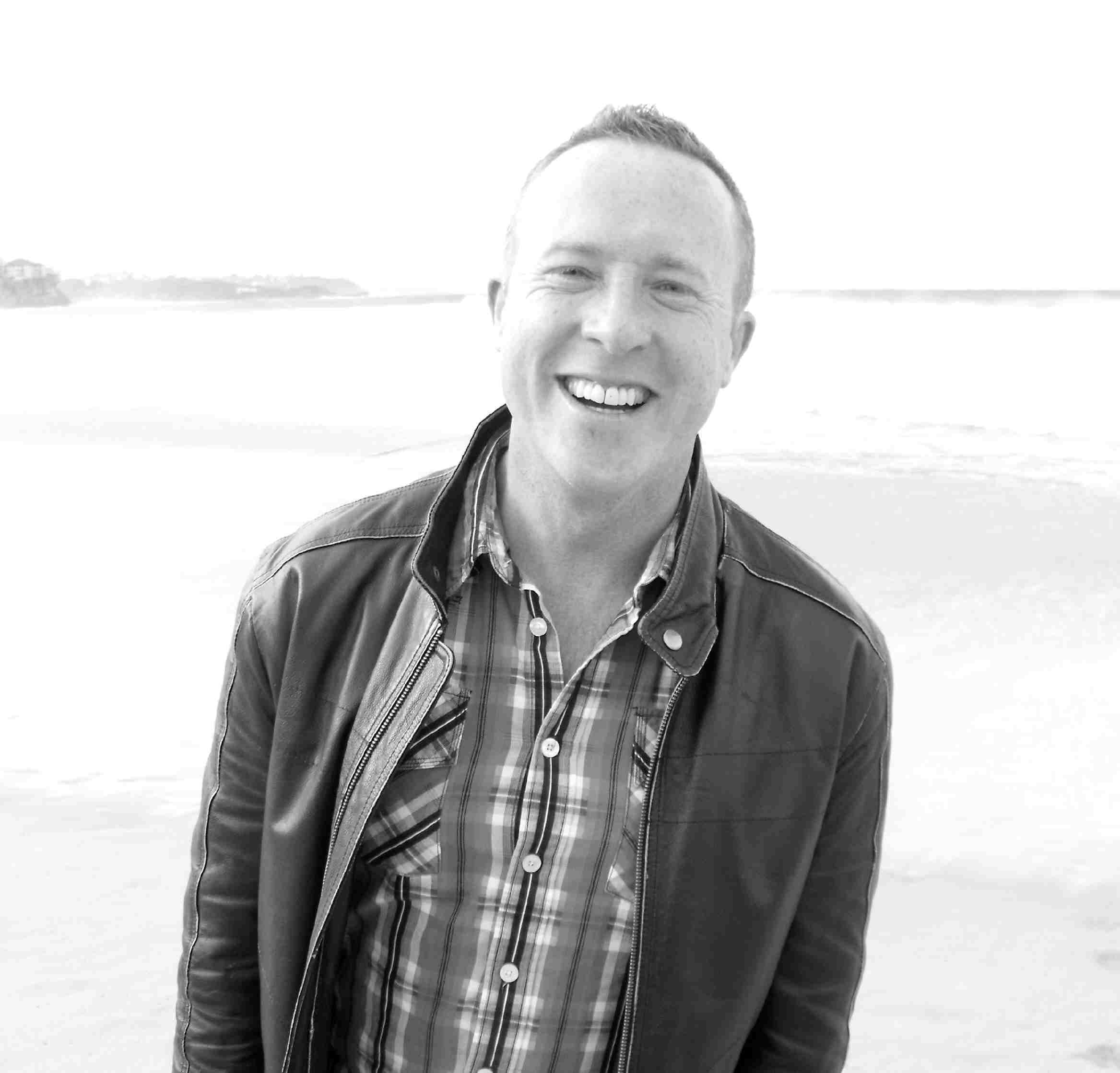 David Mark Redfern
We are sad to report the loss of David Redfern, a well-loved and popular resident of Odell. After a brave battle with cancer, David passed away on Sunday 2nd May at St John's Hospice, Moggerhanger, aged 44 years. David, the beloved husband of Teresa 'Florence', and much loved father of Amy, James and Carys and 'Papa' to Chloe, will be sorely missed by his family and many friends:
"He touched the hearts of everyone he met and will be missed more than words can say".
The funeral service – to celebrate and give thanks for his life – took place at 11.00am on Tuesday 18th May at Bromham Baptist Church, followed by burial in All Saints' churchyard.
The following is a tribute to David by his friend, David Chambers:
David Redfern was first and foremost a man of God. He had been blessed with a wonderful gift of preaching which he used consistently in the county of Bedfordshire and in many other parts of the UK. He was passionate about life and had a special rapport with young people, teaching them and explaining the Bible to them. He had enormous love for his immediate family and his commitment to them knew no bounds. He will be sadly missed by all who knew and loved him.
Donations in David's memory may be made to St John's Hospice.
Any enquiries regarding donations may be made to: Arnold's Funeral Service, 48 Roff Avenue, Bedford, tel. 01234 359529.
Flower Festival in St Mary's Church, Felmersham
The theme for the Flower Festival is dances or dance titles, ranging from a Flamenco to a sedate Waltz, from a colourful May Pole dance to the more energetic Riverdance! Come along and see how these dances are interpreted using flowers. The Flower Festival is on Saturday 19th June and Sunday 20th June, from 1.30pm to 5.30pm on both days. Teas will be served in the garden of The Old School House. Entrance to the Festival is £2.50 per person.
Songs of Praise in St Mary's Church, FELMERSHAM
This year the Songs of Praise will be on Sunday 20th June at 6.30pm (to complete the weekend of the Flower Festival). Come along and sing your favourite hymns, interspersed with readings and soloists. Stay and chat afterwards while we serve you tea/coffee and light nibbles. We look forward to seeing you.
All Saints' Flower Rota
6th Jane Eshelby
13th Fete Weekend
20th Tricia Hudson
27th Sarah Bennett
Birthdays
Mia Vyvyan 9 on 2nd
Eleanor Robinson 17th
Elliot Swift 14 on19th (8 in 2004)
Alex Tringham 18th June
Diary
1st 8.45pm Bat Walk, HOCP
9th 10.30am Meeting Point at Catherine's, 40 High St., Harrold
10th 10.30am Health Walk HOCP
12th 2.00pm Odell Village Fete, Horsefair Lane
13th 11.00am Open-air Service for all ages, Fete field
12.30pm Community BBQ.
19th 9.45am All Saints' Amblers meet at The Bell
19th 1.30-5.30pm Flower Festival, St Mary's, Felmersham
20th " " " " " " " " " "
20th 6.30pm Songs of Praise, St Mary's, Felmersham
23rd 10.30am Meeting Point at Jane's, Newton House, Avenue
Rd., Newton Bromswold
24th 10.30am Health Walk, HOCP
26th Latin Dance Evening, Village Hall
27th 2.00pm Olney Raft Race
28th 10.00am Conservation Tasks, HOCP
Magazine Deadline
Please send all entries for the joint July/August 2010 magazine to Tricia Hudson (mag1 at odellbeds.net) or Catherine Corkery by June 12th at the latest. May we remind you that the editorial team exercises the right to edit, shorten or alter any items that are submitted. Also, the opinions expressed in the articles are those of the contributors and are not the responsibility of the editorial team.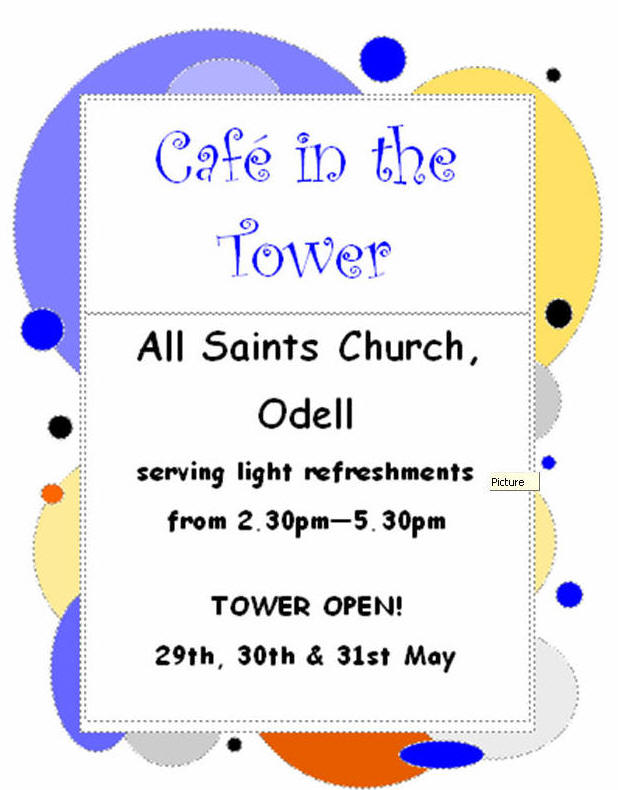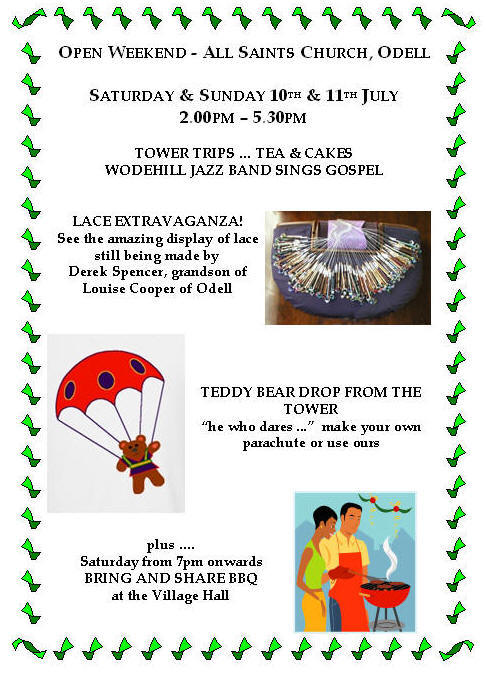 ---
Last revised: May 27, 2010.