CHURCH NEWS - February 2010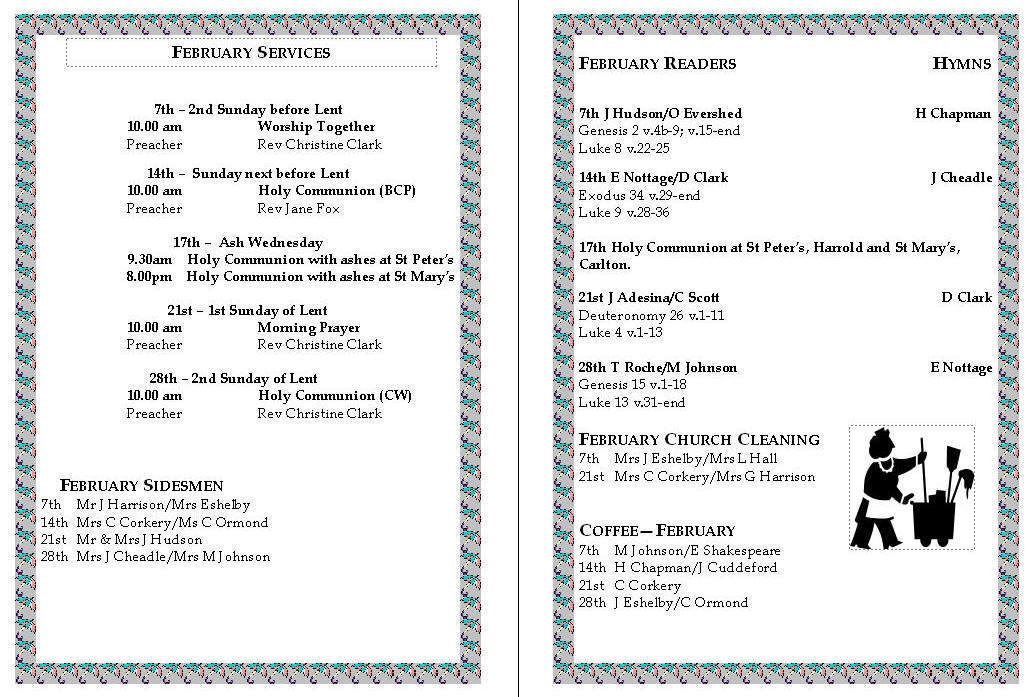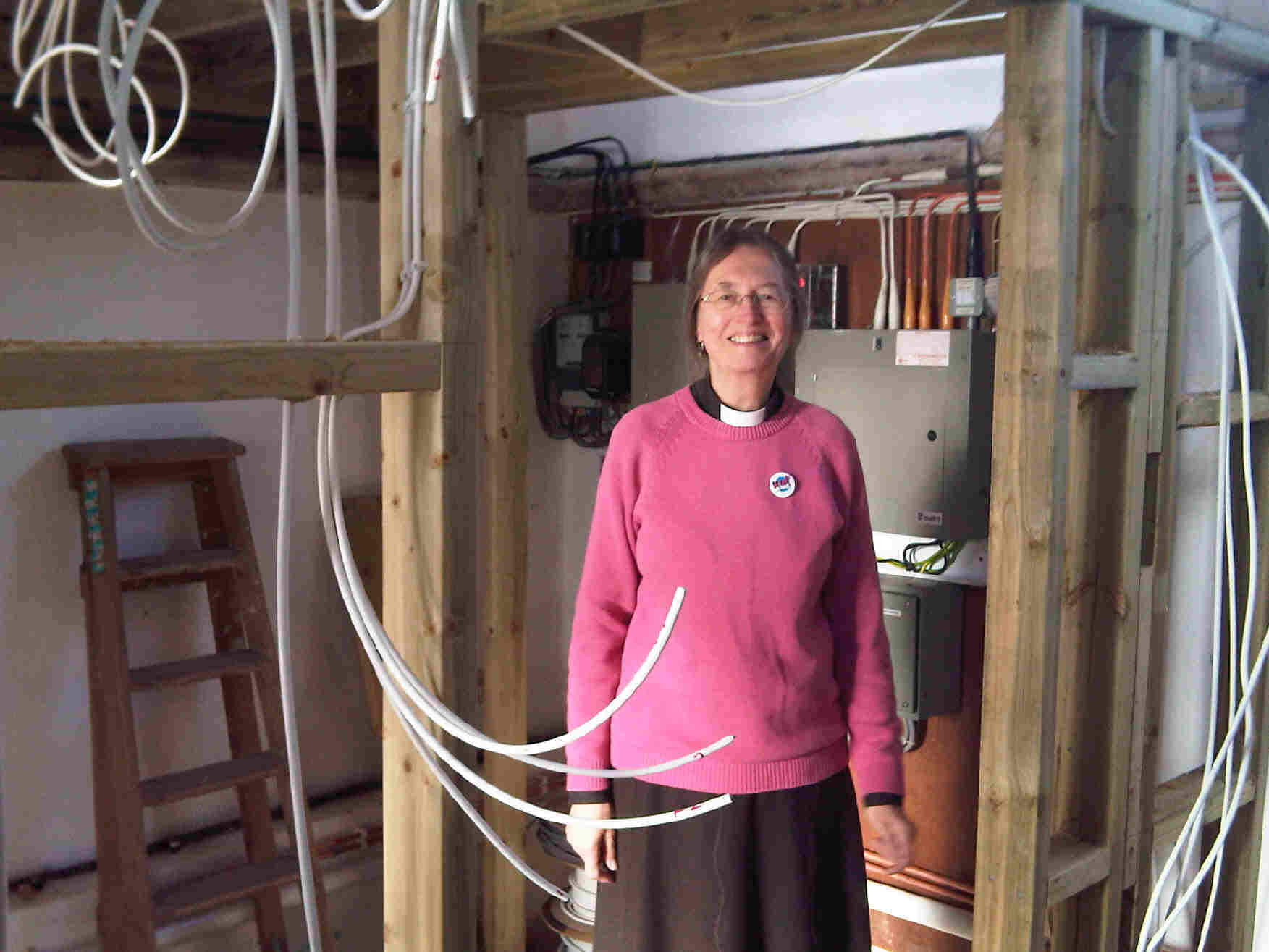 Work in progress: work on the tea point and toilet block at All Saints' has commenced: Christine stands amid the present chaos!
February 2010
Dear Friends,
David and I are not very good with technology - our excuse is that we were born too early. We prefer things that work simply, which made it difficult when David needed to replace his mobile phone (are we the only people on the planet looking for a phone that simply sends and receives messages?) So it will come as no surprise to learn that until recently we did not own a DVD player. Then kind friends gave us one, and along with it a recording of Diarmaid MacCulloch's excellent series on 'The History of Christianity,' which proved to be fascinating viewing. If you missed it, there is another chance to see it this month.
From the 1stC onwards, Diarmaid traces the history of this 'new' religion, right up to the present day, exploring in particular the ups and downs of Christianity in the east, a story that is not so well known to us in the west. In both east and west, Christianity has passed through some extraordinary, and turbulent times, and from the 4thC onwards been manipulated and used by powerful people to further their own ends and personal glorification. Terrible atrocities have been committed, and there have been countless abuses of power and trust over the centuries, even in our own day. What comes through strongly, is despite all the twists and turns, despite all the complicated layers of added traditions and practices, somehow the faith of ordinary people perseveres. In every age there are many who seek to hold fast to the teachings of Jesus and live out a life of love and service for him – these are the unnumbered saints whose faithful witness to the love and grace of Jesus Christ shines out clearly in the darkness.
Bishop Alan, appointed as our Diocesan Bishop last September, introduced himself to us on Facebook – just one example of how the Church is adapting to modern technology. This Lent, Bishop Alan is again using modern technology to challenge us – to recover what it would mean if we put all the rest aside, and dare to simply live the words of Jesus. He invites us to sign up to receive a daily e-mail or text throughout Lent – a verse from the Bible which will include something Jesus said. Bishop Alan challenges us to read it, learn it, pray it and then do it – do something to make a difference. Details are on the special website www.challenge2010.org which will also include suggestions and links to help. It will be possible (if you are up to it technologically) to share and discuss with others by posting your comments and videos on the website.
As the history of Christianity turns another corner, and utilises the possibilities offered by modern technology, will we rise to the challenge, and actually dare to live up to the teaching of Jesus? Think what a difference it could make!
With love and prayers, Christine.
The Prayer Group
What is the Prayer Group? It is made up of members of All Saints' Church who undertake to pray regularly, on an individual basis, for people who ask us for prayer support.
Who do we pray for? Anyone whom we are asked to remember; these might be people from our church, from our local community or others known to us.
What do we pray about? Anything which you would like brought before God; maybe anxiety due to illness, stress or loneliness. You can also tell us of a special day you wish to be remembered – perhaps for an interview or an exam. Any information will be treated in strictest confidence.
How can you let us know if you would like us to pray for you? You can either telephone Christine (720234), or drop a note through the Rectory door, or complete a card (anonymously if you wish) and place it in a box kept near the church door. Prayer requests will be collected from the box each Sunday morning after the 10.00am service.
Christine
All Saints' Amblers - if you would enjoy a walk in the country followed by a pub lunch, do join us on our next walk on Saturday 20th February – meet at 9.45am outside The Bell. Transport available if required.
A CPRE Silver Award was presented to All Saints' Church at a special reception held by the Campaign for the Preservation of Rural England in Milton Ernest on 3rd December 2009. The award (historic landscape category) is in recognition of the churchyard management plan which successfully combines tidy areas with other areas managed along sound environmental lines to promote a diversity of flora and fauna. Of particular interest was the 'adopt-a-grave' scheme which encourages local volunteers to care for the older graves.
Congratulations also to Jim and Margaret Jones at Yelnow Farm for the award of a 'Mark' (CPRE's highest award) for the management of their organic farm, and to the Harrold & Odell Country Park management team who received a 'highly commended' for the development of their Community Orchard, between Horsefair Lane and the High Street.
All Saints' Tea-Point and Toilet Project
We are thrilled that work on installing the new tea-point and toilet was able to begin in early January and is expected to be completed by Easter. Following discussion with the architect we were able to make changes to the plans to bring the overall costs down, but since the original quote, cost of materials has risen. The exact figure needed to meet the shortfall is not to hand at the time of going to print, but is estimated to be in the region of £10,000. In the short-term we will meet this by borrowing from money set aside for repairs to the stone-work (due to be completed by Summer 2012). We plan to continue our fund-raising efforts with a view to repaying this temporary loan within the next 18 months.
We are most grateful to all of you who have given generously and supported us throughout last year – we hope you will feel able to continue to do so, and that the church building can increasingly be used to benefit our local community.
Christine Clark
Sponsored Supper - Food with Friends - Nosh for Dosh!
Don't mind what you call it …. but the idea is to invite a few friends to a meal, be it a full-on dinner party, a simple supper or lunch, afternoon tea or a coffee morning, and in return, ask them to make a donation to the All Saints Tea-Point and Toilet fund. Not a bad way to pass those cold winter days … good food, good company, and all helping a local cause.
With thanks to Roma for the idea!
Senior Citizens' Fish and Chip Lunch
The annual Senior Citizens' Fish and Chip lunch will take place on:
Wednesday 3rd March
at 12.30 for 1.00pm
in the Village Hall.
Please let Jill Cheadle know by Monday 22nd February if you wish to join us. (01234 720261). Please note that no invitations will be sent out.
Lent Groups 2010
2010 Lent Groups start date: 22nd February. The York Course material will be used again.
The subject: "WHEN I SURVEY....Christ's cross and ours".
Places and Times: There will five study groups this year:
Monday evening, 22nd February:
3 Copperbeeches, Emmaus Village, 7.30 - 9.00pm. Leader: Garry Allan.
Tuesday evening, 23rd February:
46 Harewelle Way, Harrold, 8.00 - 9.45pm. Leader: Ruth Templeman.
Wednesday afternoon, 24th February:
32 Rectory Close, Carlton, 1.30 - 3.00pm. Leader: John Sunderland.
Wednesday evening, 24th February:
30 Orchard Lane, Harrold, 7.30 - 9.00pm. Leader John Tusting.
Thursday morning, 25th February:
40 High St, Harrold, 10.30 - 12.00noon. Leaders: Marjory Coleman/Les Wilsher. First meeting only: 25th February at 87 High St., Harrold.
Clipboards will be placed in each church for people to sign up against which group they wish to attend. It is requested that everyone who wishes to attend does so by Sunday 7th February, to enable the ordering and delivery of the study material in good time before the course starts. As in previous years the cost of the booklet will approximately £4.00 per person.
Tea Point and Toilet Block Fund Raising.
Suttons Seeds Catalogues are now available from Jill Cheadle, tel. 01234 720261. A percentage of the sales profit will be given to the Tea Point and Toilet Fund.
Meeting Point
February
10th 10.30am at Catherine's, Manor Cottage, Harrold.
24th 10.30am at Jane's, Newton House, Avenue Rd., Newton Bromswold, Rushden.
March
10th 10.30am at Christine's, The Rectory, Odell.
An evening of light music with The Ouse Valley Singers
Odell Village Hall on Saturday 27th February at 7.30pm
Refreshments included
Tickets £6 available from Ann Hudson, Abigail House 720587,
Jill Cheadle, Rectory Farm 720261
Steve Robinson, Horsefair Lane 720113.
Book early to avoid disappointment.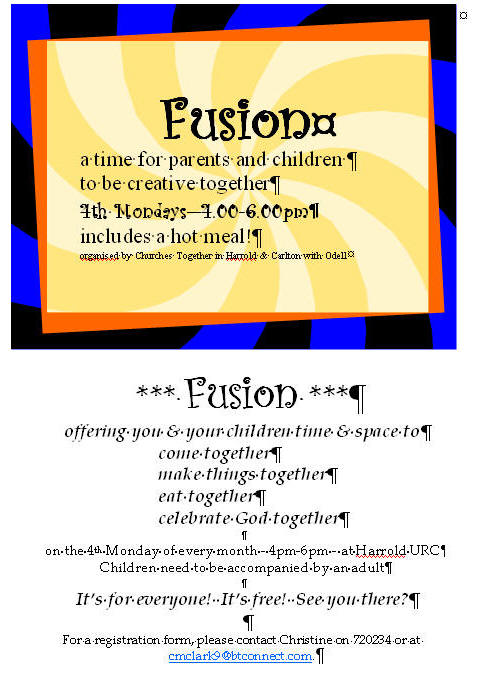 Birthdays
Happy birthday to:
Jack Holden Postles, 9 years old on the 10th , and
Victoria Beardow, 14 on the 22nd ,
And to everyone with a birthday in February!
Diary
February
3rd 7.00pm Wodehill Jazz Band at The Bell.
4th 10.30am Health Walk HOCP.
9th 7.30pm W.I. Village Hall.
10th 10.30am Meeting Point at Catherine's, Manor Cottage, Harrold.
18th 10.30am Health Walk HOCP.
20th 9.45am All Saints' Amblers meet at The Bell.
22nd 10.00am HOCP Conservation Tasks day.
22nd 7.30pm Lent Group, 3 Copperbeeches, Emmaus Village.
23rd 8.00pm Lent Group, 46 Harewelle Way, Harrold.
24th 10.30am Meeting Point at Jane's, Newton House, Avenue Rd., Newton Bromswold, Rushden.
24th 1.30pm Lent Group, 32 Rectory Close, Carlton.
24th 7.30pm Lent Group, 30 Orchard Lane, Harrold.
25th 10.30am Lent Group, 87 High St, Harrold.
27th 7.30pm Ouse Valley Singers at Odell Village Hall.
Magazine Deadline
Please send all entries for the March 2010 magazine to Tricia Hudson (mag1 at odellbeds.net) or Catherine Corkery by February 12th at the latest. May we remind you that the editorial team exercises the right to edit, shorten or alter any items that are submitted. Also, the opinions expressed (and the pictures shown) in the articles are those of the contributors and are not the responsibility of the editorial team.
---
Last revised: February 04, 2010.