CHURCH NEWS - December 2010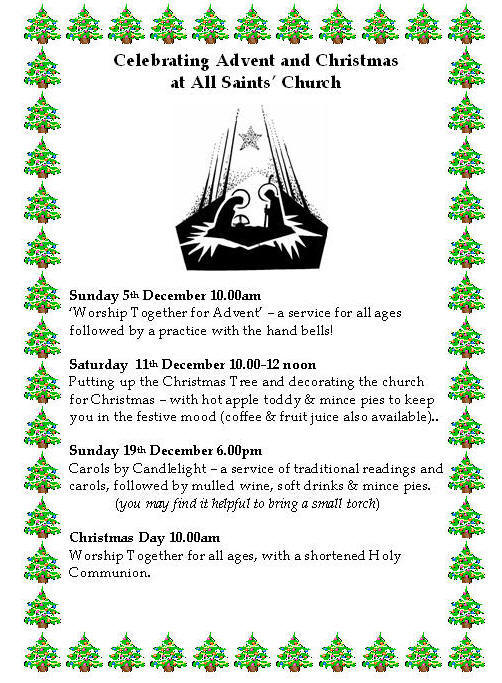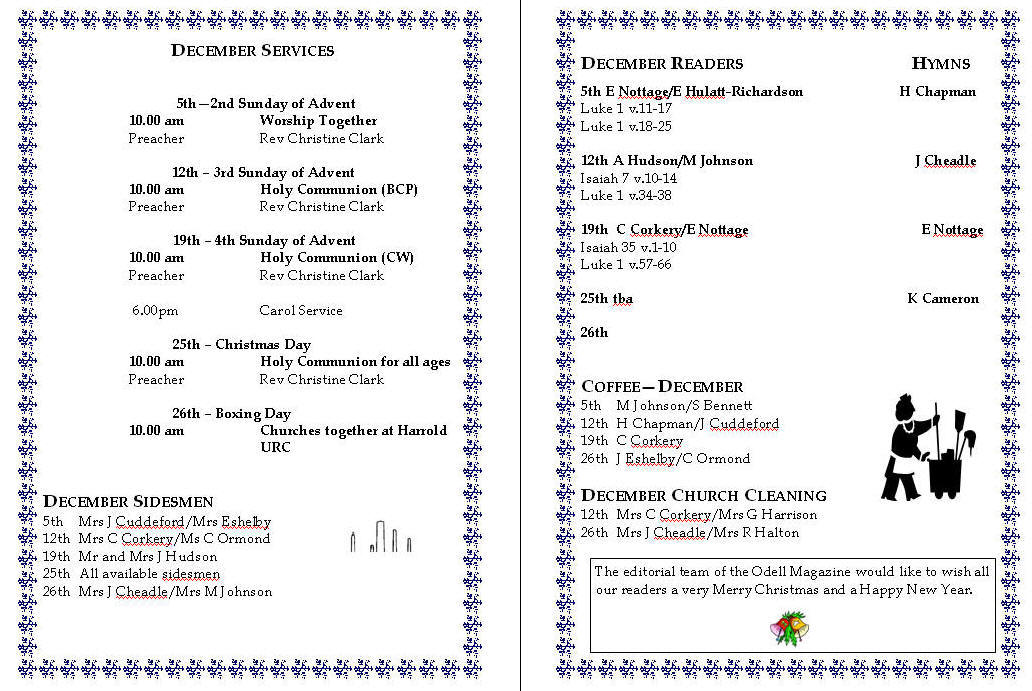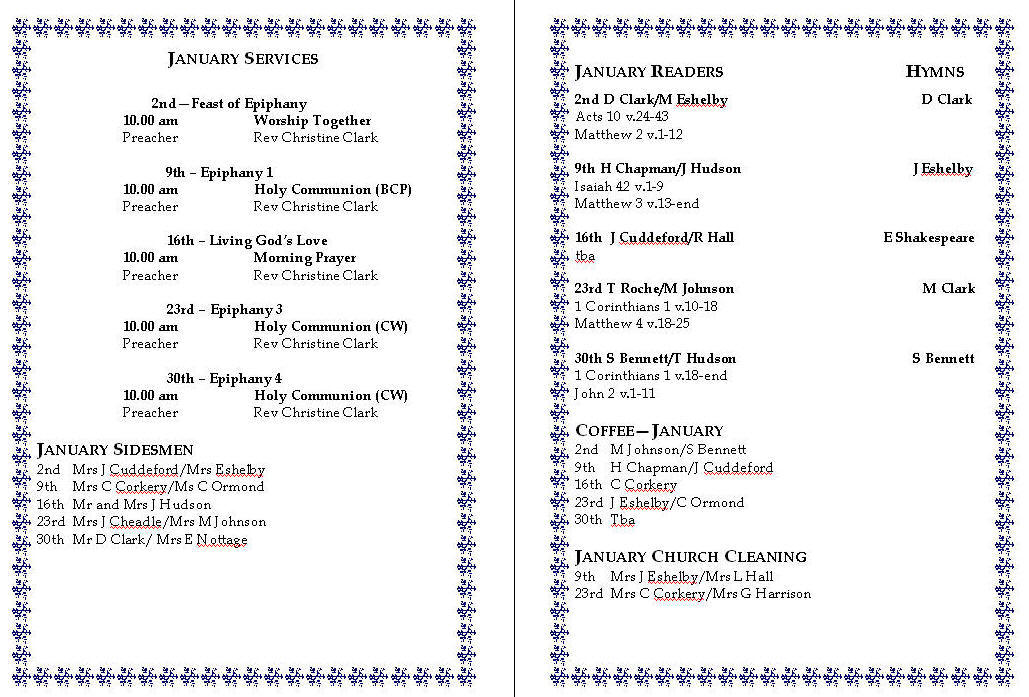 Dear Friends,
How do you prepare for Christmas?
I guess there are lots of different answers to that question, and certainly some people seem to have more preparation to do than others. I often find myself thinking of my mother at this time of year, with sadness, because she never really enjoyed Christmas. She was only conscious of all the extra work involved and in her later years, she and my dad would go away for Christmas, so that the burden of preparation was lifted from her.
For others it can be a sad time, as they think of loved ones no longer here to share the festivities, especially if this is the first Christmas without them. The superficial 'jolliness' of the season seems to strike a discordant note, and can make people feel very isolated from others who seem to be enjoying it all.
It's good to remind ourselves that the true meaning of Christmas is not about cooking the perfect Christmas dinner, nor about working ourselves into a tizzy over endless preparations. It's about rejoicing in a God of love, who came to identify with us in all the messiness and imperfections of this earthly life, becoming one of us, literally 'pitching his tent among us' (John Ch.1 v.14), suffering as we suffer, and embracing our death and overcoming it in order that we might be reconciled and reunited with him. Jesus Christ holds out to us the possibility and the promise, that by turning to him and trusting in his love, we too can overcome and find our rest in him.
I so enjoy working with children in Monday Club and FUSION, and I'm grateful for those moments when I catch a glimpse of the world through their eyes – simple and uncomplicated. They love re-telling the Christmas story, readily identifying with the different characters and enjoying the wonder and drama of it all. I think perhaps it's this sort of perspective Jesus had in mind when he said "Unless you become like a little child, you cannot see the Kingdom of Heaven."
So when the telly ads, the canned carols and the glitz and glamour of the shopping malls become just too much, and you're faced with that intimidating 'to do' list, stop for a while, close your eyes, and imagine yourself back in the stable at Bethlehem. Take time to pause, to wonder, and to kneel in worship at the manger.
Christine
We give thanks to God for another happy year in Odell,
and wish you all a very happy and wonder-ful Christmas. As we rejoice in God's never-ending love,
may each one of us recognise and delight in his presence with us throughout the coming year.
With love from Christine & David
The Prayer Group
What is the Prayer Group? It is made up of members of All Saints' Church who undertake to pray regularly, on an individual basis, for people who ask us for prayer support.
Who do we pray for? Anyone whom we are asked to remember; these might be people from our church, from our local community or others known to us.
What do we pray about? Anything which you would like brought before God; maybe anxiety due to illness, stress or loneliness. You can also tell us of a special day you wish to be remembered – perhaps for an interview or an exam. Any information will be treated in strictest confidence.
How can you let us know if you would like us to pray for you? You can either telephone Christine (720234), or drop a note through the Rectory door, or complete a card (anonymously if you wish) and place it in a box kept near the church door. Prayer requests will be collected from the box each Sunday morning after the 10.00am service.
Christine
Churches Together in Harrold & Carlton with Odell
Meditation for Advent: Peace in the Preparation
Tuesday 14 December
8.00pm at Harrold United Reform Chapel
a reflective time of worship
giving the opportunity for space and quiet in the busy season
prepared for us by the 'Martha and Mary' group
New Year … new start?
Would you like to meet up informally with a small group to explore and discuss the basics of the Christian faith? What's your understanding/experience? What else would you like to know? What do others think? Does any of it make sense?
Contact Christine on 720234 for more details.
All Saints' Amblers
Get some healthy exercise in after the Christmas excesses, and enjoy the company of others – join us on New Year's Day for a walk in the country followed by a pub lunch. Meet outside The Bell at 9.45am – transport provided to start of walk if needed. Everyone welcome, including children and dogs on leads!
Discover and Enjoy the Power of God in Your Life this Christmas
Power is something everyone seeks in one form or another. God has placed a desire within each one of us to be powerful, whatever our status in life is! Many who are in a wrong relationship with God seek power in the wrong ways. They seek to have power over people: in the business world, in promotions etc. even in world affairs and also in wars.
As Christians we should seek the power that comes only from God. We should reach out to everyone we meet and come into contact with in our daily routine, and communicate our experience of the deep richness of the love of Christ Jesus which we have gained by reading a portion of God's word every day. Remember, Jesus paid the price and set the rules for us to have the power of the Holy Spirit in our lives.
It would be worth obtaining a book called 'Daily Light' and reading it diligently for guidance and encouragement. For example, to-day it reads: John1 7v.17 "Sanctify through thy truth; thy word is truth". What is simpler than that? Going on to consider extracts from the Books of Proverbs, Psalms and Job it gives us wonderful words of wisdom and knowledge to keep us full of power and in tune for the Birth of our great redeemer this Christmas.
Don't forget, when we fail we have a great advocate and mediator to encourage us and to keep us going on to win the prize of the high calling of God through Jesus Christ – the prize of eternal life and glory.
Every Blessing, Sarah Bennett
Tea-Point Appeal Fund
31st December not only marks the end of 2010 but also the end of our Tea Point appeal. After two years of fund raising activity the PCC will close the fund, and any balance remaining will be paid for out of the Church's General Fund. The balance remaining is incredibly small, £839.95, bearing in mind the sum we were looking to find two years ago, and how daunting it all seemed. There has been the most terrific enthusiasm and energy not only from the church membership but from the entire village, for which we are all most grateful. We have all learnt a number of lessons, chiefly being what can be achieved if we put our minds to it, and also if you air an idea in Christine's presence it is likely to become a reality, so be prepared!.
The entire project will have cost £60,977 starting off with £7,100 of Church funds that had been earmarked for many years to be spent on bringing mains water into the Church. Below is a summary of how the money was raised, and spent. Most of the building work was completed in the first quarter of the year and only a small amount of retention money remains to be paid.
Helen Chapman
PCC Treasurer
Funds Raised

Expenditure

Earmarked Church Funds

7,100.00

Anglian Water

Connection

729.00

Grants

Builders

50,016.57

All Churches Trust

500.00

Architect

9,293.69

Gale Family Trust

1,000.00

Bld Regs Inspection

528.75

Steel Charity

2,000.00

Manual

400.00

National Churches Trust

10,000.00

Sundry

8.95

Bedford Borough Council

1,000.00

Anonymous Grant Donor

8,000.00

Donations

Individual donations 2009 & 2010

4,896.40

Gift Aided donations

10,118.98

Tax Recovered on Gift Aid

2,811.14

Fund Raising

Concerts, coffee mornings, open weekends, receipe books etc

8,057.14

2009 Fete (50% profit)

1,600.00

2010 Fete Profit

3,053.35

Raised to date

60,137.01

Balance left to raise

839.95

60,976.96

Total Project Cost

60,976.96
Meeting Point
December
8th 10.30am at Eileen Shakespeare's, Rushden.
January
12th 10.30am at Sarah's, 9 Horsefair Lane, Odell.
26th 10.30am at Christine's, The Rectory, Odell.
Churches Together Harrold and
Carlton, with Odell
Sharing the love of Jesus Christ
Supporting Drop Inn Ministries
Belarus/Ukraine Christmas Shoe Box Appeal
This year's appeal is now complete, thanks to all the churches, schools, and villages in and around Harrold and Carlton. We collected in and made up a total of 475 boxes for all ages of children between 5 and 16, and received over £500 towards the shipping costs, and humanitarian aid from donations. This year we were also approached by Pinchmill School, in Felmersham, who joined in the appeal.
Once again local ladies had been very busy knitting hats, scarves and mittens and beautiful coloured blankets. Over 14 ladies turned up at various times over a three week period at Emmaus to help with the checking, adding customs leaflets, and making up new boxes, which were then all shrink-wrapped into bundles of 8 and now await the lorry to take them overseas to their destinations in early December.
None of this would be possible without the help of the Emmaus Village Community allowing us to use their chapel for a number of weeks, and then to store the bundles until the lorry comes. And, of course, again nothing would be achieved without the marvellous generosity of everyone. Thank you to everyone who took part in any capacity.
Sue Brown – Organiser.
Coffee Morning at Hobbs Green Farm
Christmas Hamper Coffee Morning
on 3rd December
at Hobbs Green Farm, Church Lane, Odell
from 10.30am – 12 noon
Admission free Please bring Christmas fayre
Churches Together in Harrold and Carlton
require a
Part-time church administrator
based at Church House Office, 3 The Moor, Carlton,
to provide a focus for church administration.
6 hours per week.
Starting salary £8 per hour, with review after 6 months.
Further information available from Mrs Jenny Quillen,
Church House, 3 The Moor, Carlton, Bedfordshire, MK43 7JR.
Tel 01234 368564 Email: churchestogether@btinternet.com
Closing date 6th December 2010
Our Giving in December will be to the following Charities:
The National Society for the Prevention of Cruelty to Children,
Christian Family Care and The Bedford Area Schools Christian Support Trust (SU).
Senior Citizens' Christmas Lunch
Odell Senior Citizens' Lunch Club invites you to the
Christmas Lunch
on
Friday December 17th
From 12.30
In Odell Village Hall
Please RSVP Jill Cheadle 720261 by Sunday 5th December
(Sorry we had to change the day of the lunch to a Friday – this was due to a previous booking at the hall).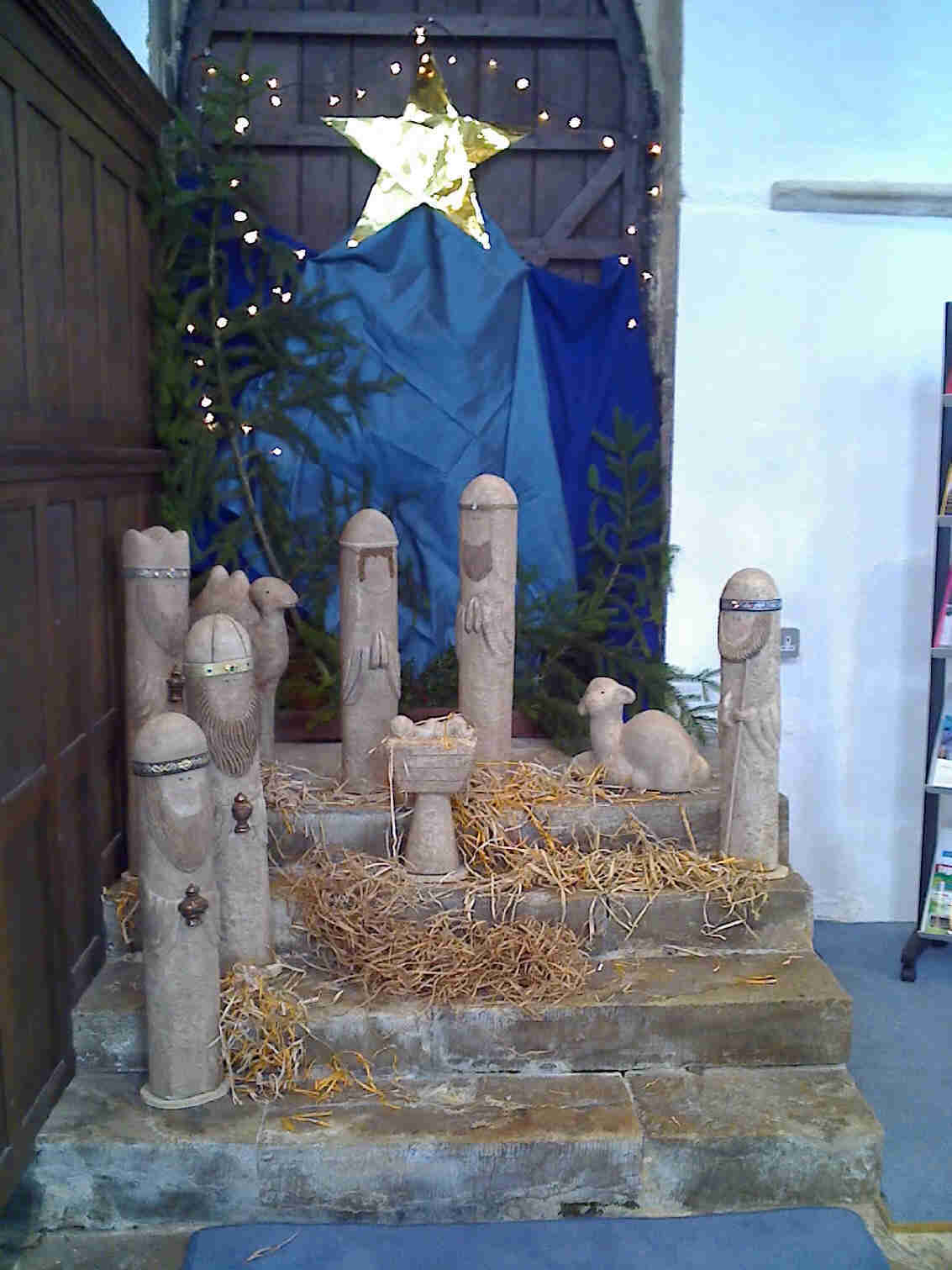 All Saints' Flower Rota
December
5th Jane Eshelby
11th Church Decorating for Christmas
January 2011
2nd after Church, all help to clear
Birthdays in December and January
Happy birthday to Charlotte Lloyd whose birthday is on the 24th January
And to everyone else with a birthday in December or January.
Diary
December
3rd 10.30am Christmas Hamper Coffee Morning, Hobbs Green Farm.
5th 10.00am Advent service at All Saints' and hand bells.
8th 10.30am Meeting Point at Eileen Shakespeare's, Rushden.
9th 10.30am Walking for health, HOCP.
11th 10.00am Church decorating, All Saints'.
14th 7.30pm WI meet at Rectory Farm.
14th 8.00pm Meditation for Advent, URC.
17th 12.30 Senior Citizens' Christmas lunch, Village Hall.
19th 6.00pm Carols by Candlelight, All Saints'.
20th 10.00am HOCP Conservation Friends Christmas celebration.
23rd 10.30am Walking for health, HOCP.
25th 10.00am Christmas Day Worship Together and Holy Communion.
January
1st 9.45am All Saints' Amblers meet at The Bell.
6th 10.30am Walking for health.
11th 7.30pm W.I. meet at Village Hall.
12th 10.30am Meeting Point at Sarah's, Odell.
17th 7.30pm Odell Parish Council, Village Hall.
20th 10.30am Walking for health.
22nd 7.30pm Burns Night, Village Hall.
26th 10.30am Meeting Point at Christine's, The Rectory, Odell.
31st 10.00am Conservation tasks day HOCP.
Magazine Deadline
Please send all entries for the February 2011 magazine to Tricia Hudson (mag1@odellbeds.net) or Catherine Corkery by January12th 2011 at the latest. May we remind you that the editorial team exercises the right to edit, shorten or alter any items that are submitted. Also, the opinions expressed in the articles are those of the contributors and are not the responsibility of the editorial team.
---
Last revised: December 01, 2010.