ODELL VILLAGE NEWS
May 2001
Odell Village Fete 16th June 2001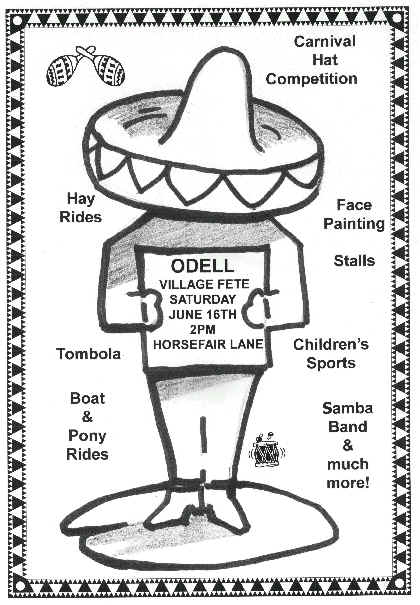 Get ready to "samba on down" to the Odell Village Fete on Saturday 16th June, in Horsefair Lane and the Scout Field! This year attractions include "Sambanistas" – a samba band which will set the carnival mood for a fun afternoon. Once again there will be pony rides, boat trips, Beat the Goalie, children's sports and all the usual fun side shows. In addition, this year look out for:

Carnival Hat Competition

Let your imagination run wild in our carnival hat competition – who says the British are too stiff and starchy?

Quiz: "Who wants to win £50?" – not quite millionaire stakes but still irresistible!

and a Colouring Competition and Fruity Fun Trail for the younger visitors. Good prizes are also to be won in the Lucky Programme Competition and the Raffle. All in all, a fun-filled programme for a not to be missed event.

Round and About

The Open Road

With restrictions on access to the countryside and the closure of the many footpaths with which Odell abounds the daily walker has been set quite a challenge. With yellow restriction notices and red-and-white tape facing you at every turn it is not easy to ring the changes when walking your dog twice a day.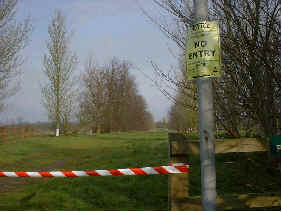 Not wishing to add to the problems of the countryside I have adopted a new routine in as cheerful a manner as I find possible, but with such a limited number of roads available I find myself restricted to just two options. I have noticed, however, that whereas I used to meet, on a regular basis, a number of Odell dogs when out in the Country Park, I now rarely see any of them at all. What do their owners know that I don't? Where do they go each day that I have yet to cotton on to!
My two dogs have now ceased to strain longingly towards their usual footpaths and no longer turn automatically in the direction of the park. They now seek out and greet new landmarks along their daily route. For the first 2 - 3 weeks, every time a car or bus thundered past their shoulders they used to get a fit of sneezing but this no longer happens so it would appear they are now acclimatized to the pollution pouring out of the exhaust pipes. It is becoming a routine, on the narrow pavements, to cling to the walls as the traffic roars by with just inches to spare. In wet weather we are now accustomed to being drenched in a sheet of water thrown up by the speeding cars - those narrow pavements leaving nowhere to hide! What my dogs cannot get used to, however, is the almost daily trick played on them by the bus drivers. Do they do it on purpose I wonder, or is it just by chance? Every time I pass a stationary bus the driver releases the hydraulics with such a loud hiss it sends both animals leaping for safety.
It is not all bad, however. When I started walking the roadways it was Winter, but Spring is now upon us and I find myself gaining an intimate knowledge of the hedgerows as they steadily turn green. I know where the daffodils are and small clumps of tulips. Despite the best efforts of the man who cuts the grass verges, I know where violets can be found, white on one roadside and deepest purple along another. There are celandines and primroses and a road that runs like a waterfall when it has been raining. I now meet and greet a completely different group of people as I step out on a daily basis along these roadways.
The new routine is certainly different and it is certainly hard on the feet and shoe leather. I find it heavy going getting up Castle Hill every day and I have noticed that the walks take about half the time that they used to, but I am getting to know parts of the parish with which I used to have only a passing acquaintance. I have found, however, together with every other dog owner I have spoken to on the subject, that we all agree on one thing, our dogs claws are in the best condition that we have every known them!
Note: At the time of writing the footpath restrictions were still in operation.....let us hope that by the time you read it some, at least, will have been lifted. Barbara Corley

W.I.News

A big thank you to Carolyn Merritt for her fascinating and informative demonstration on Tuzzy Mussys. After an interesting talk on their history and a potted history of the language of flowers she took us through the process of making one step by step. It was then time for the members to discover, as so often happens, that what looked so easy when done by an expert wasn't quite so easy in practice. We did however thoroughly enjoy trying and we all went home clutching the results of our efforts.

Next month's meeting

This will be on May 8th at 7.30pm in the Village Hall. It will be our AGM and our chance to thank everyone who has helped over the year. We will also have time to discuss this year's resolutions which are to be taken to the national meeting in June.

Hostesses Jill Cheadle and Audrey Dempsey Rachel Halton 720572

Primrose Appeal Coffee Morning

Thank you all so much for all your support in so many different ways, I'm sure you will be as pleased as we are to know that the final sum raised was the magnificent total of £452.35. The Appeal Committee was delighted and informed us that with support like this they hope to open the unit in 2002. May I also thank all the ladies of Odell W.I. who worked so hard to stage the event and for giving up their time to run it. Rachel Halton 720572

The Children's Society

Thank you to all who hold Children's Society boxes. I have been able to send off £245.35. Some people have expressed misgivings about the society's policies on adoption and fostering. I would like to assure you that none of our money goes towards adoption or fostering, but only to other areas of their work. If anyone would like a box, please let me know. Catherine Corkery, 720348

Ouse Valley Arts Festival.
The Ouse Valley Arts Festival was launched on Saturday 21st April at Bedford School by the great Band Leader Humphrey Lyttelton. The festival features a wide range of arts events for all tastes and ages and includes this year opera and music theatre, choral music, contemporary dance, jazz, chamber music and contemporary dance.
Highlights include Cantamus and the Weber String Quartet at Turvey Abbey on 1st May, John Zaradin at Unilever Theatre Hall on 3rd May, a Gala performance of Fiddler On the Roof at the Mill Theatre , Sharnbrook, the Beverley Quartet at Milton House Barn (6th May) and the final concert is at Hill House with the Oxford based Sheldonian Trio.
Tickets for all events are available from the Central Box Office: phone Bedford 269519. A 24 hour booking service is available.
Further details from John Watson (Bedford 824728)
Village Hall News
May 2001
Thank you to everyone who is using the recycling bin situated in the car park. Beds Council DSD department continue to make regular Saturday morning collections and as a consequence, donations to the Hall and Scouts funds.
Disability Access and the future of the Village Hall.
Initial plans are being prepared for approval. Possible funding sources are being researched and hopes are high!
Annual General Meeting 23rd April 2001
The AGM will have been held on 23rd April by the time this goes to press, so a full report will be included in the next edition.
Quiz Night 5th May 2001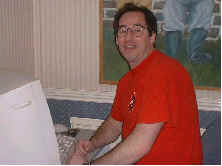 Get yer thinking caps on, the annual quiz returns - 7.30 pm for an 8 pm start. Book your team's table at only £2 per team member (children £1). Suitable for all, 'cos it's fun and there are even questions that I can answer!!

Treasure

We have located an ancient village parchment showing the location of buried treasure belonging to the well-known pirate of Ye Odell, Greybeard. With his band of ruffians, Greybeard once plied the waters of the Great Ouse, robbing fishermen, ramblers and farmers. History has it that he buried his ill-gotten gains in this area and now we have his map.

Experts are at this moment very carefully cleaning it up and deciphering the exact location so that when the foot and mouth crisis is over we can hunt for it. We will need some children and adults to help us so watch this space in future editions so that you can join the Great Treasure Hunt. Rob Lee 720730 on behalf of the Village Hall Committee

Friends of Harrold Medical Practice

The last meeting of the "FRIENDS" was held at the Practice on Tuesday 6 February and was attended by 14 members. Doctor Limond and Caroline Rigg (Practice Manager) joined us and brought us up to date with news of the Practice.

·

The general Nursing room has been divided into two, to provide a new minor illness treatment room. This will allow general nursing appointments to be run alongside the Fast Track clinic scheme.

·

We have agreed to the purchase of a new flood/spot lamp for use when minor surgery is being performed.

·

An independent (of the Practice) N.H.S. patient satisfaction questionnaire was sent out before Christmas to 138 of our patients, 74 returned the forms, but to get a balanced view they need 100 replies. Another batch of forms will be sent out shortly. If you get one, please fill it in and return promptly. (Names are picked out by the N.H.S. not the Practice).

·

It was proposed and agreed at the meeting that, to improve Patient Participation and to make contact easier with villagers, that the names of members of the "Friends" in the various villages would be listed in the magazines. If you would care to join us or have any comments to make please contact: -

ODELL - Barbara Fowler - 720481

Smoking Cessation Classes

A joint venture with Sharnbrook Practice will commence on Tuesday 24th April. The meetings will be held at Harrold Surgery from 7.30 p.m. to 8.30 p.m. each Tuesday and are FREE. The course lasts 6 weeks. More information - ring Harrold Reception 720225.

Next meeting of the "Friends" - Thursday, 3rd May at 7.30 p.m. at the Surgery

Arthur Jones of 'The Friends' - 01234 888884

Tannery Lane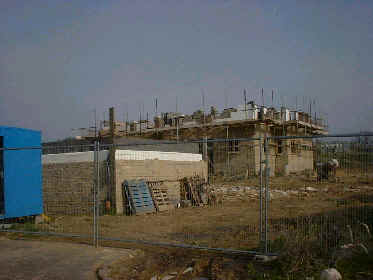 Building work has stopped in Tannery Lane with 7.5 houses now built. The half-built house is number 4 shown above.
The Mill Theatre, Sharnbrook
2001 Season
Coming in 2001…
Fiddler on the Roof – musical by Joseph Stein – May 4th – 12th.
7.45pm, Saturday matinee 3.00pm.
Meet Tevye ,his family and the close knit community of Anatevka as they go about their
daily lives. Watch the story unfold with humour and drama and enjoy the lovely songs including 'Matchmaker', 'Sunrise Sunset' and 'If I were a rich man'.
Don't miss this superb musical – book early!
Tickets.
Ouse Valley Festival Gala Performance Friday 4th May – Tickets £10 (including a glass of wine) only from the Central Box Office, Bedford.
Other performances: (see below for booking details)
Matinee Saturday 5th May (3.00pm): £5.
Monday 7th May £6.
All other performances £8.
Smike – Sharnbrook Youth Theatre – musical – 24th – 28th July.
Whodunnit? By Anthony Shaffer – comedy – Sept. 25th – 29th. Classic spoof "Who done it".
Sweeny Todd The Demon Barber of Fleet Street – musical thriller – Nov. 9th – 17th..
Bookings may be made one month beforehand from:
Bedford - Central Box Office, Harpur Suite - tel: 01234 269519
Wellingborough - The Castle Box Office - tel: 01933 270007
(Both of the above accept credit card bookings).
Sharnbrook -by returning your booking forms in person to The Village Trader, 28 High Street.
Group Sales - Alison Bean - tel: 01234 781372 – 10% reduction for parties of 10 or more.
Enquiries/Mailing list 01234 782377
All performances start at 7.45pm. Seats can be reserved.
Bedford College
A new community project is being launched to help people in Bedfordshire 'join in' with a range of specially organised social and personal development activities. Murna Braham, Outreach Project Manager for Bedford College's 'Join In' project has written to us asking us to spread the word about their plans. They aim to set up activities such as computer clubs, and classes such as exercise to music, first aid for child carers, personal empowerment and Tai Chi. Their mission is to encourage people back into training or education. To find out more, please call Murna on 01234 291928.
May Diary
1st 8.00pm Cantamus and Weber String Quartet, Turvey Abbey.
2nd 7.30pm Contemporary Dance with 'Octane', Sharnbrook Upper School.
3rd 7.30pm John Zaradin, Unilever Theatre Hall.
3rd 7.30pm Friends of Harrold Surgery Meeting at Surgery.
4th 7.30pm Fiddler on The Roof Gala Night, Sharnbrook Mill Theatre.
5th & 6th Bedford Morris Men in North Bedfordshire villages.
5th 7.30pm Quiz in Odell Village Hall.
6th 7.30pm Beverley String Quartet, Milton House Barn.
7th 7.30pm The Sheldonian Trio, Hill House Barn, Carlton.
8th 10.30am Meeting Point. venue TBA.
8th 7.30pm W.I. AGM Odell Village Hall.
23rd 10.30am Meeting Point, venue TBA.
Magazine Deadline
Please send all entries for the June 2001 magazine to Tricia Hudson (triciahudson@kbnet.co.uk), Anne Turner or Catherine Corkery by May 12th at the latest. May we remind you that the editorial team exercises the right to edit, shorten or alter any items that are submitted. Also, the opinions expressed in the articles are those of the contributors and are not the responsibility of the editorial team. This month we were particularly short of articles and are keen to encourage anyone who has something of interest to the Odell Church and or Village community to send in articles. It is especially easy to include short items of say 100 – 150 words if they are sent in as e-mails. Attached JPEG photos are also welcome.
Village Directory

The Village Directory is an initiative of the Bridge and the Carlton, Harrold & Odell Parish Councils. Its purpose is to provide information on the facilities, amenities and services available locally.

The directory will have information in the following categories:

Churches Schools/education Recreation/Sport (Adult or Young People) Government Transport Businesses/Services Clubs/Societies Food & Drink Accommodation Amenities Utilities

In order to make sure the information is accurate, please

contact us about the organisation you represent. An electronic version of the form is available on request from: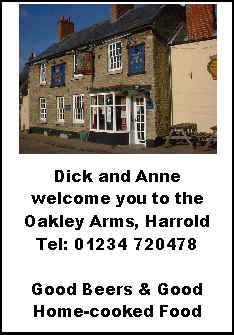 Excellent Bed and Breakfast Accomodation at the Oakley Arms in Harrold (2 miles from Odell by car, or 1 mile through the Country Park) , call +44-1234-720478 for more details (mention the Odell Web site!).
Electronic mail address
triciahudson@kbnet.co.uk

FAX number
01234-721004

Back to the Odell Home Page
---
Last revised: April 26, 2001.