ODELL VILLAGE NEWS

April 2001

Odell Village Fete 2001.

Date

: Saturday June 16th

Venue: Scout Field in Horsefair Lane and Country Park.

Once again this popular village event is to take place in June. We have had to move from the usual weekend so please make a special note of the above date in your diaries.

Many attractions are already planned, including boat trips, pony rides, quad bikes quiz, "greasy pole" and children's races as well as the many sideshows and stalls. As last year a cash raffle,a lucky programme draw and a children's colouring competition (organised through the schools) will be held. As usual we shall need lots of support - more details next month.

Work Day: the date has been fixed for Saturday May 19th, from 10.00am at the Wheelers with BBQ lunch – bring your own meat and drink – salads and bread provided.

If you would like to help in any way, have any useful items or have an idea for a stall, please contact the Rector, Tim or Liz Dodwell or Keith Merret as soon as possible. See inside the front cover for 'phone numbers.
A
W.I.News
Jenny Pates, our speaker last month, gave us an interesting talk on Organic Gardening. She had developed her interest over a number of years and was in favour of a step at a time attitude towards converting. She was very honest about the effectiveness of some organic products, but also gave us some excellent tips to try. One controversial option was to get rid of lawns; apparently over 70% of chemicals used in the garden are bought to be put on the grass in order to make it green and weed free.
Next Month's meeting:
This will be on April 10th at 7.30pm in the Village Hall. Our speaker will be Carolyn Merret who is going to explain the mysteries of making a 'Tuzzy-Muzzy' or posy. If you want any further details phone me or ask any W.I. member.
Hostesses
Kathy Dunn & Carol Ormond
Competition
Wild flower arrangement. Rachel Halton 720572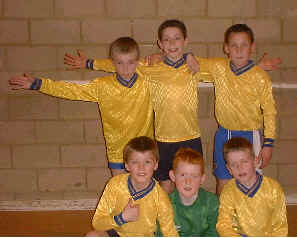 Harrold, Odell and Carlton Cubs
Odell was well represented with both Alex Swift and Adam Beresford ensuring success at the March 17th Cub Scout's 5-a-side tournament held at Sharnbrook Upper School.
Also in the team were Charlie Newton (Harrold) and Simon Hunter, Tom Resch and Matthew Woodham from Carlton.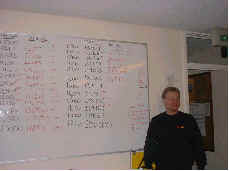 Harrold Fire Station – Rowathon
The fire crew from Harrold fire station set out to row a quarter of a million meters in 24 hours on their Concept 2 rowing machine. This was to raise money for the fire service benevolent fund and local charities. In fact they completed the challenge in just 18 hours, 34 minutes and 5 seconds and even managed to support an emergency call in the middle of it! Taking part were Andrew Horne and Tim Freeman from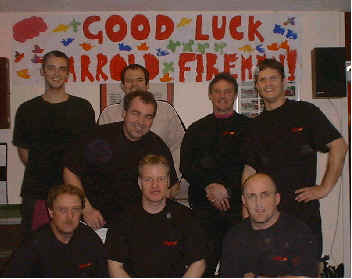 Odell along with Mark Letts, Pete Redman, Pete Sowerby, Richard Ashton, Mark Postles, Richard Baldock, Ronald Watts and James Bayliss. Support from Maurice Walker was much appreciated. This is a great example of the additional fun and camaraderie to be had if you become a 'retained' firefighter. Retained firefighters are ordinary men or women who live or work in the community, but are ready to go to a 'shout' the moment that their pager bleeps. They carry out the same operational duties as whole-time firefighters and the Bedfordshire Fire and Rescue Service is continually looking out for people who they can rely on to respond to an emergency. If you're interested, why not pop along any Wednesday evening at 7pm and have a chat about what's involved?
Humphrey Lyttelton To Launch Ouse Valley Arts Festival.
Legendary Band Leader Humphrey Lyttelton is to launch the Ouse Valley Arts Festival on Saturday 21st April at Bedford School at 7.30pm, (tickets £12.50, students £5).
The festival features a wide range of arts events for all tastes and ages and includes this year opera and music theatre, choral music, contemporary dance, jazz, chamber music and contemporary dance.
Although a number of events needing bigger venues take place in Bedford, most of the events take place in North Bedfordshire villages including Carlton, Oakley, Sharnbrook, Milton Ernest and Turvey. Highlights include Cantamus and the Weber String Quartet at Turvey Abbey on 1st May, John Zaradin at Unilever Theatre Hall on 3rd May, a Gala performance of Fiddler On the Roof at the Mill Theatre , Sharnbrook, the Beverley Quartet at Milton House Barn (6th May) and the final concert is at Hill House with the Oxford based Sheldonian Trio.
Tickets for all events are available from the Central Box Office: phone Bedford 269519. A 24 hour booking service is available.
Further details from John Watson (Bedford 824728)
Odell Parish Council
The annual meeting of the Parish Council was held on March 20th:
The Chairman gave a report on the activities of the OPC during the past year.

We have been advised by the Beds CC that Yelnow Lane is to be closed until August this year pending repairs.

We have advised the Beds CC about damage to the footway at 125 High Street. We shall urge them to repair it.

We are urging Bedford Borough Council to enforce the landscaping required for the approved development of the Tannery Lane site.

The skips will be in the village on 17th June and 21st October.

The Villager AGM will be in Sharnbrook Upper School on 2nd April.

It is likely that land will soon become available for allotments. Anyone who would like an allotment should let me or Brian Cheadle know.

We propose to put up a new sign requiring people with dogs to keep them on the lead when in Horsefair Lane.
Jonathan Harrison, Chairman, Odell Parish Council.

Village Hall News
Thank you to everyone who is using the recycling bin situated in the car park. Beds Council DSD department continues to make regular Saturday morning collections.
Disability Access and the Future of the Village Hall.
Thank you to all who turned out and/or contributed to the meeting held on 1st March in the village hall. The overwhelming view was for the committee to seek improved access and continue with a functioning hall for the village.
We can now go to the landlords with a mandate from the village in support of continuing the provision of an established community facility. It will be important for us to show grant making bodies such as the Lottery that the hall will continue to be viable and any grant is cost effective. Your support at our show, "You've never had it so good" on 16th March was tremendous. Thank you for your support!
Our next stage is to draw up initial plans for the Landlord to consider. We have received offers of assistance with this and I can assure you we will be taking them up.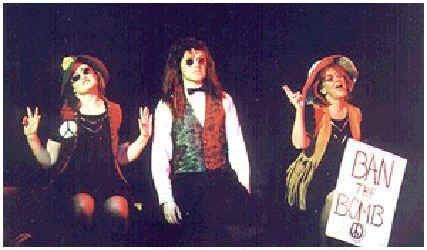 "You've Never Had It So Good"
The show, by the members of Gilt and Gaslight, gave us a hilarious look at life through the eyes of a mother and daughter growing up from the end of the war through to the 1970s. There were memories for all and songs to join along with. Everyone who attended thoroughly enjoyed the show and we have been asked to consider booking the next show they produce. Thank you to all who supported the event; your contribution was much appreciated.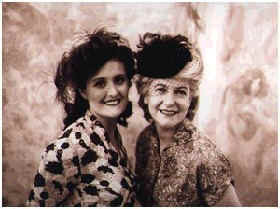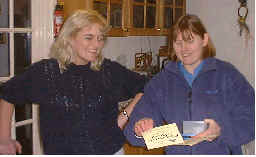 The Fashion Show
on 8th March was a great success with 53 tickets sold. Thanks to Susannah Swift and Colette Bridgman for organising this.
Annual general Meeting 23rd April 2001
The AGM will be held on 23rd April at 8pm in the village hall. Please do attend and if you would like to join the committee or stand as an officer (chairman, vice-chairman, secretary, and treasurer), then please let us know before the evening. We look forward to you joining us.
We will be bringing back 'The Quiz', hopefully next month, so watch out for that.
Be prepared for the great village treasure hunt! Coming your way soon. Rob Lee tel: 720730, on behalf of the Village Hall Committee
The Mill Theatre, Sharnbrook
2001 Season
Coming in 2001…
Fiddler on the Roof – musical by Joseph Stein – May 4th – 12th.
7.45pm, Saturday matinee 3.00pm.
Meet Tevye ,his family and the close knit community of Anatevka as they go about their
daily lives. Watch the story unfold with humour and drama and enjoy the lovely songs including 'Matchmaker', 'Sunrise Sunset' and 'If I were a rich man'.
Don't miss this superb musical – book early!
Tickets.
Ouse Valley Festival Gala Performance Friday 4th May – Tickets £10 (including a glass of wine) only from the Central Box Office, Bedford.
Other performances: (see below for booking details)
Matinee Saturday 5th May (3.00pm): £5.
Monday 7th May £6.
All other performances £8.
Smike – Sharnbrook Youth Theatre – musical – July (dates to be finalised)
Whodunnit? By Michael Shaffer – comedy – Sept. 25th – 29th.
Sweeny Todd The demon Barber of Fleet Street – musical thriller – Nov. 9th – 17th.
Bookings may be made one month beforehand from:
Bedford - Central Box Office, Harpur Suite - tel: 01234 269519
Wellingborough - The Castle Box Office - tel: 01933 270007
(Both of the above accept credit card bookings).
Sharnbrook -by returning your booking forms in person to The Village Trader, 28 High Street.
Group Sales - Alison Bean - tel: 01234 781372 – 10% reduction for parties of 10 or more.
Enquiries/Mailing list 01234 782377
All performances start at 7.45pm. Seats can be reserved.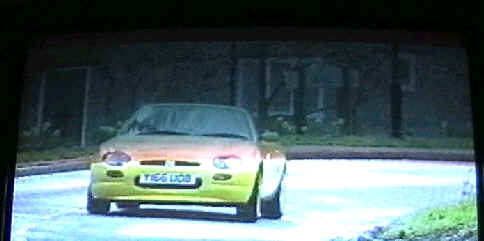 Top Gear in Odell
BBC2's Top Gear program came to Odell to show off the new MGF Sports car. Filming took place for the March 22nd TV show, with shots of the car taken all along the High Street. Amazingly, the effect was of a beautiful stone village about 5 miles long!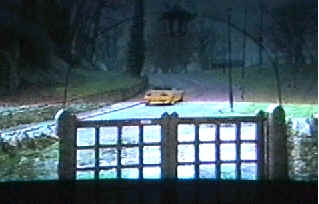 Round and About

To Coin a Phrase

I have been taking another look at this remarkable language of ours. I recently remarked on the number of foreign words and phrases in common usage in this our so-called "English" tongue and today I am looking at the way we like to sprinkle our conversation with well-worn phrases, most of which we learnt at our mother's knee. Many such phrases, or cliches, are very old whilst others are quite recent, their most valuable asset being that they are instantly recognised by everyone concerned.

Their time scale is extraordinary, ranging from The Bible with "the writing is on the wall" to the even earlier reference to the "sword of Damocles ", both of which warn of imminent danger, although both have a slightly different nuance.

If we are seen to "eat humble pie" - with a grovelling apology or a perceived penance - we are referring to the Old English word "umbles" - a word for offal, an inferior or unappetising food only eaten by humble folk. An open display - "warts and all" - relates to Oliver Cromwell's instruction to the artist Lely, to paint him in an uncompromising manner "warts and all".

To be given 'the cold shoulder' explains a method of put down for the 18th century party gatecrasher. A hostess faced with a surprise or uninvited guest would treat them to a cold supper or alternatively on their approach would turn her back on them, thus ensuring the situation would not occur again. "To curry favour" by ingratiating oneself refers to grooming a horse with a harsh brush rather than an Indian meal. This phrase relates to a 14th century. French romance featuring a horse called Favel renowned for its cunning and duplicity. Currying favour (Favel) meant winning someone over by cunning or guile.

"Bob's your Uncle" refers to Lord Salisbury, one-time Prime Minister, placing relatives in a position of authority. A "white elephant" tells of a practice carried out by the kings of ancient Siam (Thailand). White elephants were rare and valuable animals and very costly to maintain. The kings, not wishing to pay for their upkeep would place them amongst their courtiers. Unable to refuse their king, or pass the gift on to another, they had nothing else to do but 1ook forward to being made bankrupt by the cost of upkeep.
"Hobson's Choice" refers to a Cambridgeshire carrier and horse dealer of the 17th century who hired out his horses to passing trade. He believed in hiring them out in strict rotation and his clients had no choice in the horse they received - they had to accept Hobson's choice - indeed, no choice at all.
All kinds of phrases have taken their place in our language. We add to them as the years go by - some fashionable for just a short period whilst others survive the test of time. For example, today we hear "phone a friend" or "you are the weakest link", but how will they compete with "beyond the pale" based on Ireland in the 11th century refusing to accept Norman rule and being fenced off, rather like Hadrian's Wall? Or, can they compete with "crossing the Rubicon" – a phrase from the 1st century B.C. relating to a river across which you did not pass without being challenged by Rome? We hear of "ladies who lunch" but will they outlive Prime Minister Harold MacMillan's "You've never had it so good"? These much loved and well-used cliches are as like as "chalk and cheese" and as enduring. In 14th century England cheese was the same creamy colour as chalk and they both shared a similar appearance… and it was a case of buyer beware!
Finally, let us end on a happy note - a "Red Letter Day" no less. On our early calendars the Church would always distinguish Saints Days and Holy Festivals by depicting them in red letters – a reliable way to communicate with a largely illiterate population who could always be relied upon to recognise the Red Letter Days. Barbara Corley.
Other News
The Bell survived yet another chimney fire on March 23rd – our local firefighters (fit from their recent 'Rowathon') were able to put things right.
All footpaths remain closed through April as the Foot and Mouth epidemic continues to take hold in the country. The main concern is wild animals (mainly deer) spreading the disease. At the time of going to press the nearest outbreak was Wooton in Northamptonshire.
April Diary

1st 6.00pm Deanery Lent Evensong All Saints, Odell.

2nd TBA Villager AGM, Sharnbrook Upper School

4th 10.30am Meeting Point, Jill Cheadle's, Rectory Farm.

4th 8.00pm Lent Study, Rectory.

10th 7.30pm W.I. Village Hall.

12th TBA Maundy Thursday Service, All Saints'.

13th 2.00pm Good Friday Devotional Service, All Saints'.

14th 10.00am Church decorating, All Saints'.

15th 10.00am Easter Day Service, All Saints'.

21st 7.30pm Humphrey Lyttelton and his band launch Ouse Valley Festival, Bedford School.

23rd 8.00pm Village Hall Committee AGM in Village Hall.

25th 10.30am Meeting Point, Eileen Shakespeare's, Corner Ho., Wymington Park, Rushden.

25th 7.00pm Annual Parochial Church Meeting, Village Hall.

28th 2.00pm Pit Run, Harrold. Races from 2.00pm, main race 3.00pm.

May

1st 8.00pm Cantamus and Weber String Quartet, Turvey Abbey.

2nd 7.30pm Contemporary Dance with 'Octane', Sharnbrook Upper School.

3rd 7.30pm John Zaradin, Unilever Theatre Hall.

4th 7.30pm Fiddler on The Roof Gala Night, Sharnbrook Mill Theatre.

5th & 6th Bedford Morris Men in North Bedfordshire villages.

6th 7.30pm Beverley string Quartet, Milton House Barn.

7th 7.30pm The Sheldonian Trio, Hill House Barn, Carlton.

Magazine Deadline

Please send all entries for the May 2001 magazine to Tricia Hudson (triciahudson@kbnet.co.uk), Anne Turner or Catherine Corkery by April 12th at the latest. May we remind you that the editorial team exercises the right to edit, shorten or alter any items that are submitted. Also, the opinions expressed in the articles are those of the contributors and are not the responsibility of the editorial team.

Village Directory

The Village Directory is an initiative of the Bridge and the Carlton, Harrold & Odell Parish Councils. Its purpose is to provide information on the facilities, amenities and services available locally.

The directory will have information in the following categories:

Churches Schools/education Recreation/Sport (Adult or Young People) Government Transport Businesses/Services Clubs/Societies Food & Drink Accommodation Amenities Utilities

In order to make sure the information is accurate, please

contact us about the organisation you represent. An electronic version of the form is available on request from: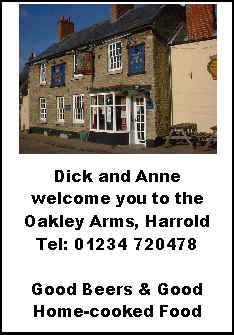 Excellent Bed and Breakfast Accomodation at the Oakley Arms in Harrold (2 miles from Odell by car, or 1 mile through the Country Park) , call +44-1234-720478 for more details (mention the Odell Web site!).
Electronic mail address
triciahudson@kbnet.co.uk

FAX number
01234-721004

Back to the Odell Home Page
---
Last revised: March 29, 2001.