CHURCH NEWS - MAY 2001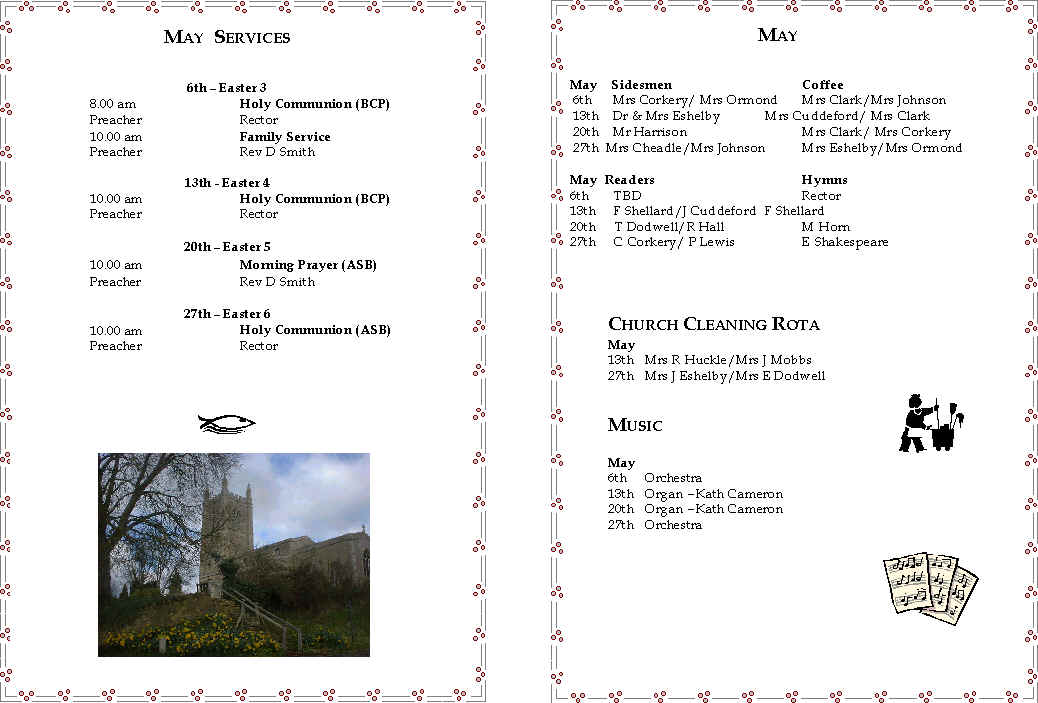 From the Rectory
May 2001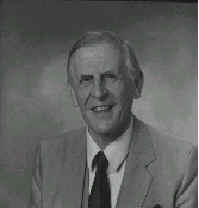 Dear Friends,
A recent survey by the BBC indicated that there were more people in this country who believed in the resurrection of Jesus Christ than had been previously thought. It was admitted that there was a decline in those numbers compared to previous years but at fifty two per cent the figure was higher than expected.
A considerable part of the problem is the media itself and its expectation that the majority of persons think like them. This is true politically and in my opinion is creating a problem. However, I will not comment any further on that. The question really is how far does the media influence the general public rather than just inform it.
In the matter of Christianity there are presuppositions that Christianity has been proved to be false. The names of God and Christ are used quite openly as swear words. It is interesting that no producer allows the name of Mohammed to be taken in vain. I say that not because I wish it to be so. I am glad that it is not but the Muslim community would rise up very quickly and complain if it were so used.
Some years ago the 'Heart of the Matter' produced a programme in which it was stated that the resurrection of Christ was proved to be false on the grounds that burial urns had been found in the area of Jerusalem bearing the names Mary (Miriam) and Jesus (Joshua). On this basis it was argued that these were the remains of the family. Therefore, there was no resurrection of the body. It was pointed out by Christians and confirmed by archaeologists in Jerusalem that these were very common names in Palestine in the first century. No such conclusion could be drawn on the basis of such flimsy evidence.
The Religious Department of the BBC refused to withdraw the programme and this was televised. There was an interesting development from that. A new programme was being put in place to which I was invited with other Christian colleagues to attend. The object of the exercise was to allow the viewing public with an interest in various programmes to criticise the programmes.
The Head of the Religious Affairs and the programme producer attended and came in for some very stringent criticism. The producer apologised but interestingly the Head refused to do so. The concept of 'Biteback' as a regular programme was put into the waste bin and as far as I know was viewed no more.
The particular programme failed because it sought not to inform but to influence and on the basis of very inadequate evidence. In my opinion, it was guilty of serious prejudice to the point of discrimination against an orthodox Christian belief. The question of how religious broadcasting should be undertaken in this country is not an easy one to solve especially as Christians are legally under some restraint in what may be done.
The illustration used is particularly apt because the resurrection of Christ is at the heart of the matter. If there is no resurrection physically of Christ then Christianity is proved to be false. The truth or falseness of the resurrection is too important to be taken on the basis of flimsy inadequate evidence. For those who do not yet believe may I suggest that you research the evidence. You may well be surprised at the result.
Sincerely in Christ, David Streater.
[I am always available to discuss this and any other matter that you might like to raise.]
The Prayer Chain
The Prayer Chain is there if you need prayer for yourself, for others or for members of your family. Please don't ask for prayer outside your own family without people's permission. To have a number of people pray just telephone David (720234) or Dennis (822992).
Meeting Point
May
Tuesday 8th 10.30am Venue to be arranged.
Wednesday 23rd 10.30am Venue to be arranged.
United Christian Conferences
Saturday 23rd June, 2001 10am to 4pm
At St. Bartholomew's Church, Greens Norton.
Stephen Cottrell will introduce the subject of "Luminous Christianity"
Weaving Prayer into our daily lives – a practical course for all who long to pray more effectively.
Stephen , a Vicar in Huddersfield , is the author of several books including "Praying through Life" and is part of the Springboard Team set up by the Archbishops. He is known to many as one of the dynamic duo who led the Training Days for Clergy and PCCs at "Daring to Share" in this Diocese in October 2000, and the recent "Tools for the Job" Conference earlier this year.
Booking is essential (Fee of £2.00).
For more information contact Revd. John Knight, The Rectory, Towcester Rd., Greens Norton, or see the poster in the porch of the church.
Our Giving in May is to The Church Army.
Over the last few years following its strategy paper 'People to People', Church Army has been concentrating both its existing work and the development of new posts into five focus areas, including Church Planting and Area Evangelism. It has aimed to reach out to those parts of the community which are geographically or perhaps culturally apart from the rest of the community. The church plants themselves are often growing more rapidly than their parent church, meeting in buildings where people carry on their everyday lives and often in places which the Church itself would find hard to reach.
Please give generously to this charity.
Odell Church at Easter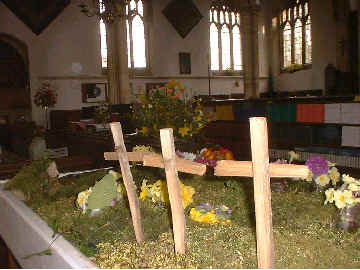 The church was beautifully decorated with colourful flowers for this year's Easter Day celebrations. Shown here is the Easter garden in the foreground with one of the many floral displays behind.
Amongst Ourselves
Hilda Wright would like to say a very big thank you to all the kind people, for the lovely cards, flowers and gifts they sent for her 80th birthday.
Odell Village Fete 16th June 2001
Get ready to "samba on down" to the Odell Village Fete on Saturday 16th June, in Horsefair Lane and the Scout Field! This year attractions include "Sambanistas" – a samba band which will set the carnival mood for a fun afternoon. Once again there will be pony rides, boat trips, Beat the Goalie, children's sports and all the usual fun side shows. In addition, this year look out for:
Carnival Hat Competition
Let your imagination run wild in our carnival hat competition – who says the British are too stiff and starchy?
Quiz: "Who wants to win £50?" – not quite millionaire stakes but still irresistible!
and a Colouring Competition and Fruity Fun Trail for the younger visitors. Good prizes are also to be won in the Lucky Programme Competition and the Raffle. All in all, a fun-filled programme for a not to be missed event.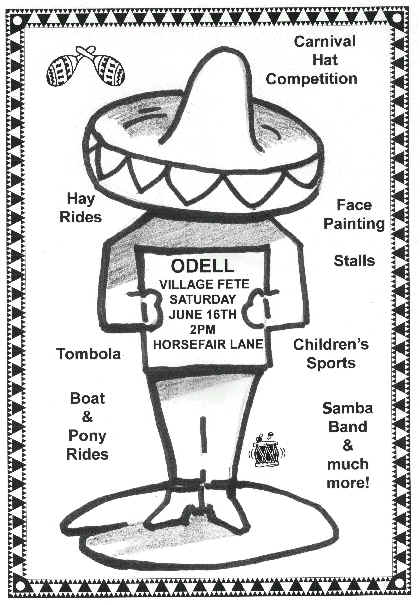 May Diary

1st 8.00pm Cantamus and Weber String Quartet, Turvey Abbey.

2nd 7.30pm Contemporary Dance with 'Octane', Sharnbrook Upper School.

3rd 7.30pm John Zaradin, Unilever Theatre Hall.

3rd 7.30pm Friends of Harrold Surgery Meeting at Surgery.

4th 7.30pm Fiddler on The Roof Gala Night, Sharnbrook Mill Theatre.

5th & 6th Bedford Morris Men in North Bedfordshire villages.

5th 7.30pm Quiz in Odell Village Hall.

6th 7.30pm Beverley String Quartet, Milton House Barn.

7th 7.30pm The Sheldonian Trio, Hill House Barn, Carlton.

8th 10.30am Meeting Point. venue TBA.

8th 7.30pm W.I. AGM Odell Village Hall.

23rd 10.30am Meeting Point, venue TBA.

Magazine Deadline

Please send all entries for the June 2001 magazine to Tricia Hudson (triciahudson@kbnet.co.uk), Anne Turner or Catherine Corkery by May 12th at the latest. May we remind you that the editorial team exercises the right to edit, shorten or alter any items that are submitted. Also, the opinions expressed in the articles are those of the contributors and are not the responsibility of the editorial team. This month we were particularly short of articles and are keen to encourage anyone who has something of interest to the Odell Church and or Village community to send in articles. It is especially easy to include short items of say 100 – 150 words if they are sent in as e-mails. Attached JPEG photos are also welcome.

electronic mail address


triciahudson@kbnet.co.uk

FAX number
01234-721004

Back to the Odell Home Page
---
Last revised: April 26, 2001.