CHURCH NEWS - FEBRUARY 2001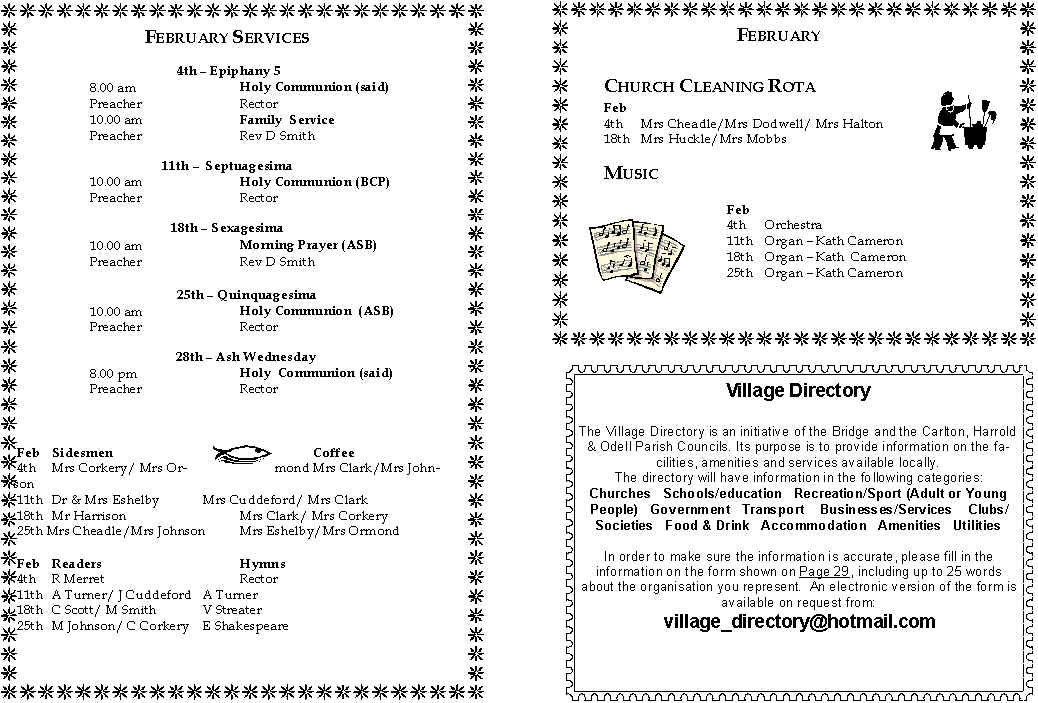 From the Rectory
February 2001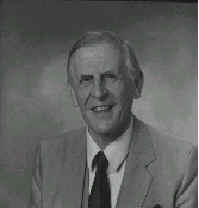 Dear Friends,
Over the last year we have been looking at some of the questions posed by the BBC Today programme. It was an attempt to assess the state of Christian belief in our nation in the Millennium year. A number of profound questions were raised, which we have attempted to answer simply. This was done in order to show that in spite of massive prejudice against the Christian Faith, especially in the media, it is alive and well and has no need to be ashamed, or indeed to apologise for its existence.
The final question is framed as a double. "Are all of the Ten Commandments applicable today?", and "if not, which ones would you dispense with?" The second part indicates the mindset of the questioner who is dismissive of the absolute authority that the commandments possess. What is really being asked is, whose law is it anyway?
You will recall from the Old Testament that the Israelites under the leadership of Moses, released from slavery in Egypt, met with the Lord God at Mount Sinai. Here the law was given to them, which they were to obey, because they were constituted as the people of God. The law of God was part and parcel of the life of the Old Testament Jew. Obedience brought blessing but disobedience brought punishment from God.
With the coming of Christ the people of God were broadened to include the rest of the nations upon earth. Where the Christian Faith was believed the Law of God was accepted personally and became the bedrock of legal systems of Christendom. This was true of this country until the 1960s, since when there has been a deliberate and successful attempt to downgrade the Christian Faith. In fact, some of the leaders of the Church joined in with the Bishop of Woolwich's book, 'Honest to God'.
However, if you remove one set of standards they have to be replaced by another set. The history of this country since the end of the Second World War has been a series of attempts to create new sets of values. The latest is political correctness. You will have read the story of the White Male (Anglo Saxon Protestant?) Snowman produced as a thesis at Birmingham University. In spite of the author's comments, it is quite obvious that her basic understanding arises from Liberation Theology, which is a form of Marxism. White males are oppressors, therefore a white snowman is an image of the oppressor.
The problem with all such modern inventions of new morality is that they do not create freedom but tyranny. C S Lewis saw this clearly when he wrote, "Many a popular planner on a democratic platform, many a mild mannered scientist in a democratic laboratory means, in the last resort, just what the Fascist means. He believes that 'good' means whatever men are conditioned to approve and to create consciences by eugenics, psychological manipulation of infants, state education and mass propaganda."
This is particularly true of modern government in the area of sexual morality. A good example of this is the morning after pill to be dispensed to young girls, including those who are under the age of consent without parental permission on the basis that the end justifies the means. In other words the State becomes God and determines what is right and what is wrong, not only in sexual morality but also in crime and punishment amongst others. Such ideas are constantly paraded before the people by the media until many do not know what to think.
We believe and maintain that the Ten Commandments are a revelation from God and reflect both his infinite wisdom and glory. We affirm that they are as applicable today as when they were first given to Moses and provide the only safeguard of both human rights and at the same time human responsibility. That however is not the end of the story as we shall need to work out how this law of God works in the Church and human society in the next issue.
With all good wishes, Sincerely in Christ, David Streater
Lent Studies.
Any reading of the New Testament will show how much the Young Church used the Resurrection as a means of evangelising the world of the first century. We affirm our belief in the doctrine regularly in the Creeds but do we really understand it? During Lent I am proposing to study the question of the resurrection of the body and in particular to look in detail at what the apostle Paul writes to the Corinthian Church in answer to some who were denying it. We shall meet on Wednesday evenings at 8-p m in the Rectory, beginning March 7th and continuing till April 4th. Everyone is welcome.
The Prayer Chain
The Prayer Chain is there if you need prayer for yourself, for others or for members of your family. Please don't ask for prayer outside your own family without people's permission. To have a number of people pray just telephone David (720234) or Dennis (822992).
Meeting Point
February
Tuesday 6th 10.30am at Liz Dodwell's, Watermead, Odell Rd., Harrold.

Wednesday 21st 10.30am at Jill Cheadle's, Rectory Farm, Odell.

Thank You

Many thanks to Valerie and David Streater from all those who attended the Senior Citizens' Christmas Lunch at the Rectory on December 6th. A great deal of effort must have gone into making this lunch such a happy and special occasion!

Aid For Romania from North Bedfordshire –

POSH SUPPER,

at Watermead, 41 Odell Road, Harrold

from 7.30pm on Saturday February 3rd

Hopefully anyone interested will have already received an invitation or seen a poster about the Posh Supper. If not, and if this magazine is out in time, please contact us at once.

We hope most people heard the good news that all our goods arrived safely in Buzau, Romania before Christmas, and we have had some enthusiastic thanks from members of our sponsored families. One family in particular is feeling better. They moved out of town a couple of years ago thinking that living in a cottage in the country might help Dad who had had both legs amputated. Sadly, that did not work out for them and the family moved back to Buzau and father died just before Christmas. We heard of their plight when we were there last October and, though their original sponsors are now supporting another family, we decided we would take on the family again. So, they had a real Christmas surprise when, like all the other sponsored families, they received boxes and bags of clothes, shoes, cuddly and other toys, toiletries, bedding, and towels. This in addition to hearing they will be sponsored again, and they received an extra gift of £10 sent to each family.

Pit Run

Saturday April 28th

Hopefully there will be some runners, and walkers too, for our Romania charity.

Can you help?

Please give offers to run, walk or, most important, to sponsor, to us or anyone running for us, please. With the family mentioned above being supported from central funds (as well as other extra commitments), we still need all the support we can get.

Tim and Liz Dodwell

Celebration of Christian Healing

in the context of the Eucharist

In St. Albans Abbey

On Saturday 10 February at 10.30 am.

Speaker: The Right Revd John Perry (Bishop of Chelmsford)

"The Healing Christ and the Healing Church".

Testimony by Graham Cansdale.

Music by the St. Andrew's Consort.

Personal ministry for physical, emotional or spiritual problems will be offered.

Farewell & Thanks to Joan and Maurice Thompson

We say farewell to Joan and Maurice Thompson who leave their home in Sharnbrook to take up residence in the People's Republic of South Yorkshire! We thank them for the many years of faithful service given to the church and many Christian activities in the area.

Sidesmen

We still need another sidesman for the 3rd Sunday of each month to join Mr. J. Harrison. Any volunteers please have a word with Jill Cheadle.

Our Giving in February

is to the Leprosy Mission.

Contrary to popular belief leprosy is not a disease of the past but is a serious health threat right now in many developing countries. However, leprosy can be cured through multi-drug therapy. We can do our bit to help by giving generously in the special plate in the back of the church.

Help!

The Fete Committee are in desperate need of more committee members to ensure the continuation of the famous and very popular Odell fete. If you think you can spare a little time and enthusiasm to give to this fun and worthwhile village activity, please contact Reverend David Streater as soon as possible at The Rectory (tel. 720234).

Amongst Ourselves

A Feast of Entertainment.

The evening of Saturday 13th January was cold outside but those attending the 'New Year's Party' organised by All Saints' (not the "pop" group!) at the Village Hall were certainly warmed inside by a feast of good food and lively entertainment.
The evening began with a tasty 'finger buffet' which was followed by a programme of varied and highly entertaining acts.
The concert party was opened by Mrs Valerie Streater and Mr Jonathan Harrison in true 'Variety' style with the chairman not only stealing lines, but in Blair like fashion misplacing an act somewhere! Reverend David Streater gave a thoughtful rendition of 'Puck's Song' by Rudyard Kipling, but the mood of the evening quickly became very light-hearted as the 'WI' quartet, Jill, Joyce, Val and Jane, gave us the hilarious "Four Girls Bright and Beautiful". Barbara Corley then proved to us that good comedy is indeed timeless as she skilfully recreated 'The Nursery School' sketch by the great Joyce Grenfell. More comedy was provided by Rachel, Mandy and Barbara from the W.I. as they gave us a tongue-in-cheek insight into life in the W.I., in the style of the "Three Ronnies". Musicians Liz Dodwell and Liz Lewis , accompanied by ladies of the W.I. and church members, entertained us with a selection of "silly songs" and community singing which was very lively and enjoyable. Seriously folks, it was fun and enjoyed by old and young alike.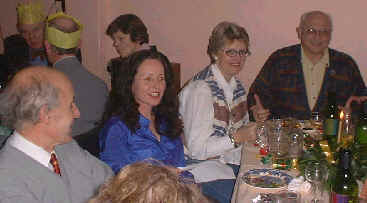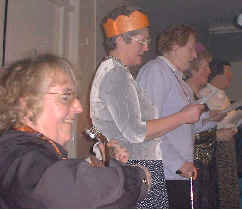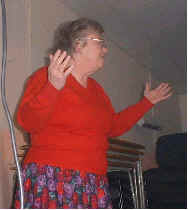 Mainly organised by Valerie with many helpers the whole evening was a huge success. On behalf of all those who attended we offer our heartfelt thanks.
Dates to remember
14th February: Valentines Day.
Tell someone that you love them!
27th February: Pancake Day (Shrove Tuesday).
Looking to Jesus with Anne Turner:
Printed with kind permission of United Christian Broadcaster from the daily readings "Our Daily Bread".
Never Out Of His Sight!
"The eyes of the Lord your God are continually upon (the land) from the beginning of the year to its end". Deuteronomy 11:12 (KJV).
As you look ahead to another year, God's Word gives you a glimpse into some of the wonderful things He has in store for you. Listen:"the land you are about to enter and possess is not like...where you have come from. It is land of hills and valleys with plenty of rain - a land the Lord your God personally cares for! His eyes are always upon it, day after day throughout the year". (Deuteronomy 11:10-12 LB).
You're about to enter a year where God promises you everything you need to succeed! No matter what you left behind in the old year, this new one offers you a fresh start. God says He will not remember your sins and shortcomings (Isa 43:15), so close the door and move forward.
Note: the land ahead is not flat and monotonous. It's a land of hills and valleys; and you need both! This year you'll have to climb some mountains, and you'll need endurance to make it to the top. But when you do, the view will be breathtaking and the rewards will be greater than you ever dreamed.
You'll also go through some valleys and deal with pain and loss, but there you'll drink from God's sweetest streams. There you'll understand the words "He restoreth my Soul."
But, most importantly, we're told that, "his eyes are always upon it." No matter what lies ahead this year, He'll be with you every day. Now there's a reason to celebrate!
Printed with kind permission of United Christian Broadcasters "Word for Today" available from Tel: 01782 642000. Web site: www.ucb.co.uk.
UCB are also looking for Christians to pray 10 minutes a week for Christians in Broadcasting around the world". (Tel 01782 642000)
Need to talk and share a problem? UCB have a Listening Line 9870 243 8787. In strictest confidence people are there to listen - and pray for you. Never be afraid to telephone!
Well worth a visit: the Celebration of Christian Healing at St Albans Cathedral advertised elsewhere in the magazine. Graham Cansdale had been healed in many ways, and has a wonderful touching testimony. The service is a very beautiful, restful and moving occasion. Please try to come. Lifts will be available.
Thought for the month: God is only a prayer away!
Verse for the month: All things are possible to him who believes. (Mark 9:23)
Amongst Ourselves.
As we start the New Year, we continue to pray for the local sick, elderly, bereaved and lonely. Further a field we pray for those in the earthquake in El Salvador. We are so very lucky in Odell, compared to other parts of the world. This month in particular we pray for those in search of love, looking everywhere else except to Our God and his abounding, abundant love!
PCC News
The PCC of All Saints' Odell met on 15th November 2000. The following items were discussed:
The Bishop of St. Albans has granted an extension of time for the use of the Alternative Service Book until Advent 2001.

The Harvest Festival giving was allocated to St. Francis, Theological College, Wusasa, in the diocese of Abuja, Nigeria.

In view of increasing numbers at services and in addition to the large numbers that attend occasional services the PCC agreed to purchase and additional fifty hymn books plus four large print.

Church repairs – a new protective screen is to be installed over the East Window.

More room is needed in the churchyard – clearing is necessary to accommodate extra rows.
Birthdays
Birthday greetings go to:
Anthony Merret who will be 9 on the 14th
And to anyone else who has a birthday in February.
Birth Announcement
We send belated congratulations to James and Jayne Peverell of "The Folly", Odell, on the birth of Nicholas on 7th November 2000. Nicholas is a baby brother for Freya.
February Diary

3rd 7.30pm Posh Supper at Watermead, Harrold.

6th 10.30am Meeting Point at Liz Dodwell's, Watermead, Harrold.

10th 10.30am Celebration of Christian Healing, St. Albans Abbey.

10th 2pm Garage sale, 4 Mill Lane.

13th 7.30pm W.I. Odell Village Hall.

21st 10.30am Meeting Point, Jill Cheadle's, Rectory Farm.

March.

6th 10.30am Meeting Point at Mary Rogers', 2 Hall Close, Sharnbrook.

7th 8pm Lent Study at The Rectory.

14th 8pm Lent Study at The Rectory.

21st 10.30am Meeting point, Catherine Corkery's, Manor Cottage, Harrold.

21st 8pm Lent Study at The Rectory.

24th Coffee Morning in Village Hall in aid of The Primrose Appeal.

28th 8pm Lent Study at The Rectory.

Magazine Deadline

Please send all entries for the March 2001 magazine to Tricia Hudson (triciahudson@kbnet.co.uk), Anne Turner or Catherine Corkery by February 12th at the latest. May we remind you that the editorial team exercises the right to edit, shorten or alter any items that are submitted. Also, the opinions expressed in the articles are those of the contributors and are not the responsibility of the editorial team.

Village Directory

Please see the top of this page for details about the Odell/Harrold/Carlton Village Directory and what the categories are. The organisers hope to start work on the directory in early February, so do get your forms in as soon as possible. E-mails would be welcome on :

Electronic mail address


triciahudson@kbnet.co.uk

FAX number
01234-721004

Back to the Odell Home Page
---
Last revised: January 28, 2001.