CHURCH NEWS - APRIL 2001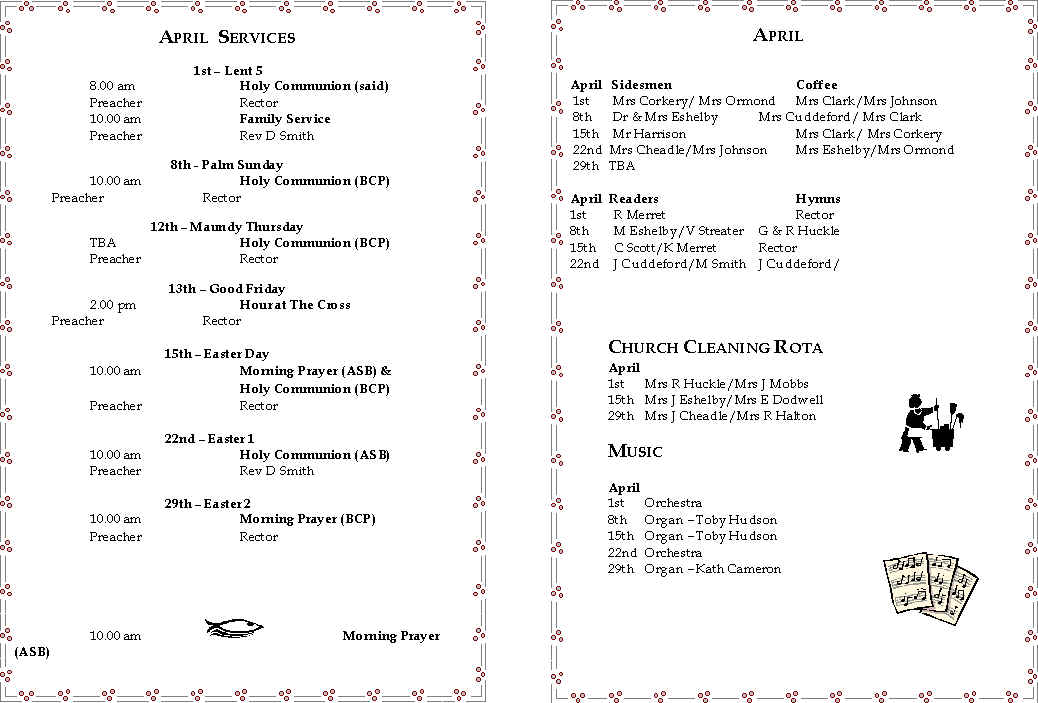 From the Rectory
April 2001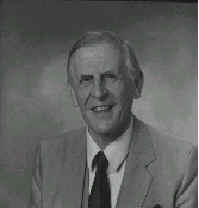 Dear Friends,

We have finished examining the various questions that were posed by the BBC Today programme. There is still an underlying question that is critical. It separates those who profess to have no faith at all and those who do. It also separates sadly many who do profess to have a faith but who practically deny it. The separation comes in the area of revelation. The word revelation comes from the Latin, "revelare" and means to reveal

something that would be otherwise hidden.

What do I mean by this revelation? In simple terms, that there is a God and that God reveals himself and his purposes to humanity. Those who profess faith but deny revelation believe in a human philosophical quest. The account of God's revelation is set out specifically in the four gospels in the life, teaching and work of the Lord Jesus. Part of that revealing comes to us in the accounts of the miraculous, of which the greatest miracle was the resurrection of Jesus Christ from the dead.

This will naturally bring the objection that miracles not only do not but also cannot happen. The fact is that the miracles of the New Testament are far removed from fairy tales and from Harry Potter and wizardry. Their character is consistent with the normal laws of nature which may be either speeded up: water into wine, or, suspended: Christ walking on the water.

We often forget, but should remember, that the whole creation is sustained by God's mighty working power. C S Lewis makes a brilliant comment on Christ's miracles when he says that they, "reveal in close-up and on a small scale what God is always doing on a larger scale in nature," and so they bear witness to the true divinity of Jesus.

It is in this particular area that we can understand both the Virgin Birth of Christ and his Resurrection from the dead. They testify to the immense acts of power and love which brought the eternal Son of God into this world and the need for it because of the fallen-ness and corruption of mankind. God brings into being Plan B, the new Creation, after mankind's rebellion in Plan A, the old creation.

We must ask the question about the manner in which many who do profess faith deny the historical truth of the gospels. They argue that it may be possible to believe in miracles, but how do we know that the Gospel accounts are true? The first point that needs to be raised about these critics is to ask what are their presuppositions and prejudices. If you begin criticism from the position that none of these things could have happened, then it is not surprising that you finish with the conclusion that it did not happen. This is particularly true of the resurrection appearances of Christ to the disciples.

If the possibility of the existence of God is accepted, then the possibility of miracles (not magic) is perfectly reasonable. The witness of the four gospels to the life of Jesus is not only reasonable but remarkably full compared with other contemporary historical documents. There is also the testimony of non-Christian writers such as Josephus (Jewish), Tacitus and Suetonius (Roman). There is absolutely no doubt that Jesus of Nazareth is a real person in Palestine during the first century.

The fact is that when we are dealing with the work and witness of the Lord Jesus Christ we find ourselves in a remarkably human world. The scene may be in first century Palestine but the humans and their needs are very contemporary in a real life sense. It is in this setting that the ministry and miracles of Jesus are carried through according to his Father's will from the incarnation to his death, burial, resurrection and ascension into heaven.

Paul writes in the opening verses of the Epistle to the Romans these words concerning Jesus Christ: "Paul, a servant of Christ Jesus, called to be an apostle and set apart for the gospel of God - the gospel he promised beforehand through his prophets in the Holy Scriptures regarding his Son, who as to his human nature was a descendant of David, and who through the Spirit of holiness was declared with power to be the Son of God by his resurrection from the dead…" All this is God's revelation of himself and his purpose, confirmed by the miracles that Christ performed and the greatest is the resurrection from the dead. God is there. God speaks and God reveals himself to man in Jesus Christ.

May I wish you a very happy Easter,

Sincerely,

David Streater.

Sharnbrook Deanery Lent Evensongs

Preacher: Canon Anders Bergquist of St Albans Abbey.

Lenten Food

1st April Broiled Fish (Jon 21, 4-14) All Saints, Odell.

Service commences at 6.00 p m.

Lent Studies

"I believe in the resurrection of the body and the life everlasting." We have been studying St Paul's comment to the Corinthians on this critical subject. Final Lent Study to be held on

Wednesday April 4th in Rectory at 8.00 p m.

The Prayer Chain

The Prayer Chain is there if you need prayer for yourself, for others or for members of your family. Please don't ask for prayer outside your own family without people's permission. To have a number of people pray just telephone David (720234) or Dennis (822992).

Meeting Point
April
Wednesday 4th 10.30am at Jill Cheadle's, Rectory Farm.
Wednesday 25th 10.30am at Eileen Shakespeare's, Corner House, 38 Wymington Park, Rushden.
19th Annual Harrold Pit Run -
Saturday 28 April
All being well the Pit Run will take place over the traditional course, but at the time of writing we do not know what restrictions on the use of the Country Park may be in force at the end of April. Rest assured that we shall have contingency plans for an alternative route if need be, so get your sponsorship forms and get your sponsors! Don't forget half your sponsorship money goes to the organisation you choose from those listed.
The Main Race starts as usual at 3.00 pm, with the Lower and Middle School races and the Wheelchair race starting from 2.00 pm. There will be stalls and, we hope, a band on the Green during the afternoon, so come along, support the runners and enjoy the atmosphere!
Sponsorship forms are available from Michael Bliss in Harrold, and the Village Stores and Post Office in Carlton on payment of the entry fee of £2 for the Main Race. The entry fee on the day will be £5. Entry for the School and Wheelchair races is free.
Flower Rota

If anyone would like to do the flowers in church for a particular occasion or anniversary please contact Jill. (720261).

Sidesmen.

We still need another sidesman for the 3rd Sunday of each month to join Mr. J. Harrison. Any volunteers please have a word with Jill Cheadle.

Our Giving in April is to Feba Radio.

Feba Radio is an international radio – based mission, communicating the Gospel through radio programmes and follow-up. FEBA broadcasts mainly from The Seychelles in over 55 languages to more than 40 countries including India, Nepal, the Middle East, Kenya, Mozambique and the Indian Ocean Islands.

The power of the radio broadcasts to bring hope where there is despair and light where there is darkness cannot be underestimated.

April 29th is FEBA RADIO SUNDAY when hundreds of churches around the U.K. will focus on people cut off from contact with the Gospel and whom FEBA's broadcasts aim to reach. Remember FEBA in your prayers and giving this month.

Odell Village Fete 2001.

Date

: Saturday June 16th

Venue: Scout Field in Horsefair Lane and Country Park.

Once again this popular village event is to take place in June. We have had to move from the usual weekend so please make a special note of the above date in your diaries.

Many attractions are already planned, including boat trips, pony rides, quad bikes quiz, "greasy pole" and children's races as well as the many sideshows and stalls. As last year a cash raffle,a lucky programme draw and a children's colouring competition (organised through the schools) will be held. As usual we shall need lots of support - more details next month.

Work Day: the date has been fixed for Saturday May 19th, from 10.00am at the Wheelers with BBQ lunch – bring your own meat and drink – salads and bread provided.

If you would like to help in any way, have any useful items or have an idea for a stall, please contact the Rector, Tim or Liz Dodwell or Keith Merret as soon as possible. See inside the front cover for 'phone numbers.

Amongst Ourselves

We send our love to Lin Samuels still in Shand Ward at South Wing recovering from a rather nasty operation. Although under such pain and stressful trauma, Lin as usual overcomes all with her welcoming warming smile. We continue to uphold Lin and the family in our prayers, remembering especially Tricia coping with the needs of her family, hospital visits and fitting in the work needed for the magazine, and the strength and patience she needs to uphold her daily. We send all the family our love and prayer support at this time.

We pray, Father God : we praise you for all staff in our hospitals especially those dealing with people that we know and love. We continue to pray for John Hancock, the housebound and elderly: Edie Surridge, Phyllis Ames, Hilda Wright, Barbara Lady Luke, and those in Nursing Homes: Marjorie Owen in Charter House Bedford, and Marion Smith (who so faithfully served and worshipped at All Saints) in Woodbine Nursing Villa, Rushden.

As we look at the damage that 'foot and mouth' disease has caused to farmers and poor innocent animals, we ask that you will comfort and uphold all the farmers and those connected with this outbreak. We also try to understand that all things are of you, and that nothing happens badly without you bringing something good out of it. You alone dear Lord know our needs and situations far better than we do. Be with all those we love keeping them safe as you cover us all with your grace. May your kingdom come, and your will be done. We pray this prayer through the name of Jesus The Lord. Amen.

Congratulations and our love go to Adam Corkery for winning Best Minor Unit across the alpine events at the British Army Ski Championships held at Les Contamines, Montjoie, for the Armoured Division Ski Championships. Well done Adam. What next??

Looking To Jesus At Easter 'I am he that liveth and was dead; and, behold, I am alive for evermore'. Rev 1.18

What's the big deal about Easter?

Simply this; His resurrection guarantees ours! With more time behind me than ahead of me, that really does interest me. How about you? If I'm going to trust anybody, I'll trust the person who's been through it – and lived to tell the tale. Jesus is the only man who ever made an appointment beyond the grave – and showed up to keep it. That makes Him 'the ranking expert' on the subject.

What gives courage to the bereaved as they stand beside a fresh grave? Or ultimate hope to the handicapped, and the abused? What do you say to the parents of a brain-damaged child that will keep them from living their entire lives exhausted and demoralised? What's the final answer to pain, mourning, senility, insanity, terminal disease, sudden calamity and fatal accidents? The ultimate answer is - the promise of the resurrection! (1Cor.15). That's the mental glue that holds our shattered thought together.

More than once I've looked into the swollen eyes of despairing people and told them 'there's a land that is fairer than day'. John saw it and he said, "There shall be no more death, sorrow or pain" (Rev.21.4). Just imagine - the physically disabled will leap for joy. Those who've spent their entire lives in darkness will suddenly see their first face - the face of Jesus. No wonder we get excited at Easter. Listen: "He died for us so that we can live with him forever" (1 Thes 5:10 NLT) WOW!

Taken from "Word for Today" with kind permission of United Christian Broadcasters. Word for Today is available from: Tel:01782 642100. Well worth a read.

Lord Jesus Christ.

Thank you for dying on the cross in my place.

I ask you to forgive my sins, and as I look to the cross this Easter-time, I give to you my heart and ask you to be Lord of my life for ever. Amen.

Anne Turner

Birthday greetings to:

Tanya Fulford who will be 5 on April 5th

and belated birthday greetings to Hilda Wright who was 80 on the 21st March.

AGM of the Parochial Church Council

The annual general meeting of the PCC will be held in the Village Hall on April 25th at 7.00pm – everyone in the Church and Village is encouraged to come along and participate.

Easter Week in All Saints', Odell

Maundy Thursday
There will be a service of Holy Communion (Book of Common Prayer) in All Saints'; the time will be announced in church.
Good Friday
"An Hour at the Cross" – a service of readings, prayers and devotional music from 2.00 – 3.00pm.
Easter Saturday 14th April
Church decorating will take place from 10.00am in All Saints' Church. Please come along with or without flowers and greenery to help make the church beautiful for Easter day. Children welcome to come and help create the Easter garden in the church.
Easter Day 15th April
We will be celebrating Easter Day in All Saints' with a short service of Morning Prayer at 10.00am, followed by a shortened Holy Communion (BCP).
Everyone welcome.
April Diary

1st 6.00pm Deanery Lent Evensong All Saints, Odell.

2nd TBA Villager AGM, Sharnbrook Upper School

4th 10.30am Meeting Point, Jill Cheadle's, Rectory Farm.

4th 8.00pm Lent Study, Rectory.

10th 7.30pm W.I. Village Hall.

12th TBA Maundy Thursday Service, All Saints'.

13th 2.00pm Good Friday Devotional Service, All Saints'.

14th 10.00am Church decorating, All Saints'.

15th 10.00am Easter Day Service, All Saints'.

21st 7.30pm Humphrey Lyttelton and his band launch Ouse Valley Festival, Bedford School.

23rd 8.00pm Village Hall Committee AGM in Village Hall.

25th 10.30am Meeting Point, Eileen Shakespeare's, Corner Ho., Wymington Park, Rushden.

25th 7.00pm Annual Parochial Church Meeting, Village Hall.

28th 2.00pm Pit Run, Harrold. Races from 2.00pm, main race 3.00pm.

May

1st 8.00pm Cantamus and Weber String Quartet, Turvey Abbey.

2nd 7.30pm Contemporary Dance with 'Octane', Sharnbrook Upper School.

3rd 7.30pm John Zaradin, Unilever Theatre Hall.

4th 7.30pm Fiddler on The Roof Gala Night, Sharnbrook Mill Theatre.

5th & 6th Bedford Morris Men in North Bedfordshire villages.

6th 7.30pm Beverley string Quartet, Milton House Barn.

7th 7.30pm The Sheldonian Trio, Hill House Barn, Carlton.

Magazine Deadline

Please send all entries for the May 2001 magazine to Tricia Hudson (triciahudson@kbnet.co.uk), Anne Turner or Catherine Corkery by April 12th at the latest. May we remind you that the editorial team exercises the right to edit, shorten or alter any items that are submitted. Also, the opinions expressed in the articles are those of the contributors and are not the responsibility of the editorial team.

electronic mail address


triciahudson@kbnet.co.uk

FAX number
01234-721004

Back to the Odell Home Page
---
Last revised: March 29, 2001.