ODELL VILLAGE NEWS
December 2000 - January 2001
Luckily it is the Great Ouse and not the Ouse which snakes around North Bedfordshire. While escaping the catastrophes suffered in Yorkshire, our own 'Great Ouse' also grew to menacing proportions during the November rains..........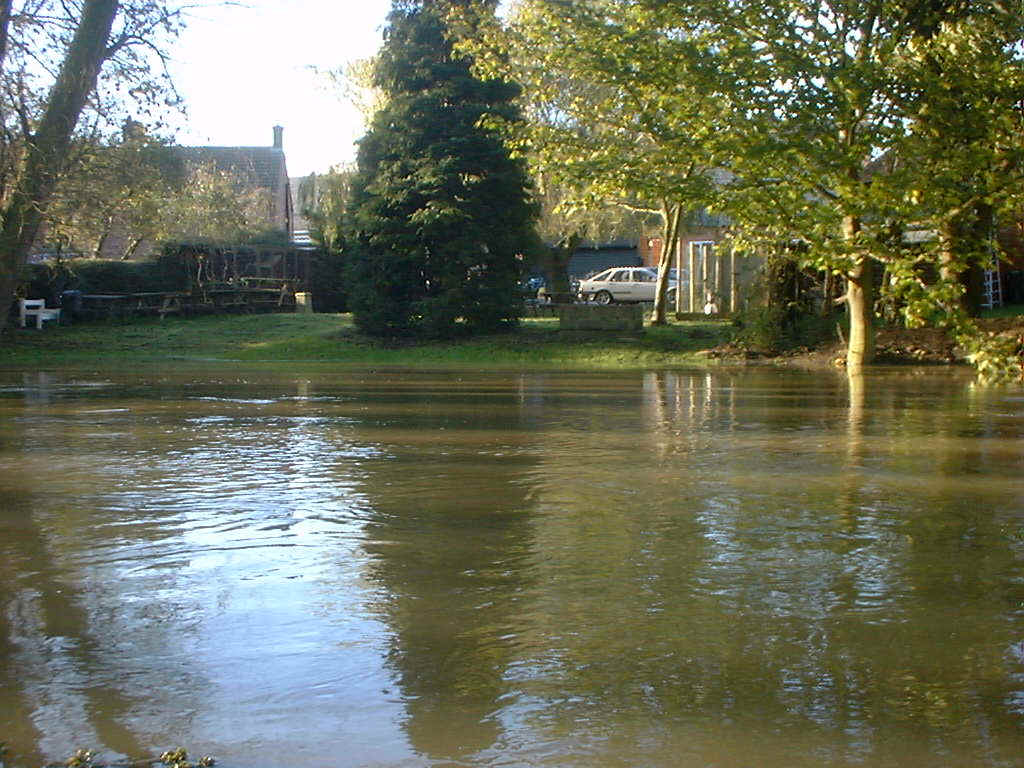 The view towards the back of the Bell when the floods were at their highest in November
W.I.News
We were pleased to welcome Mrs. Jayne Beard of Cooper Beard Estate agency to our meeting in November. She was talking on two subjects, the first was to update us on the new Primrose Appeal for a purpose built Cancer Support Unit at Bedford Hospital, of which she is an active supporter. The second talk was how her career developed from hosting a French language student to running the flourishing Letting Agency she has in Bedford High Street. She was an interesting, informative and stimulating speaker.
Next Month's meeting
Our meeting in December is our annual Christmas Social Evening, to be held at the home of Doreen Wheeler on December 12th.
Our January meeting, to which all are invited, is on Tuesday January 9th at 7.30 in the Village Hall. Our speaker is Colonel Woodrow whose subject is 'Christopher Wren-the man'. Either come along or phone me on the number below if you want more details.
Hostesses- in January - Mary Lee & Jenni Cuddiford
Competition -in January - A piece of History
Many thanks to all who supported our social evening in the Village Hall, it was an enjoyable evening with some excellent entertainment from the Riverside Rachel Halton 720572
Mencap Coffee Morning
Many thanks to everyone who supported the coffee morning to sell Mencap Christmas cards.
We sold over £300 of Mencap cards and gifts and raised an additional £150 for the Sparkle Club. The leader of the club is delighted and asked me to pass on his thanks to everyone. Doreen Wheeler
Retirement
On 4th November Peter Coleman retired after nearly 50 years in the watch and clock repair trade. Born in the village in 1935, he was educated at Odell and Harrold schools, and spent 2 years at Luton Technical College.
His 2 years' National Service was with the Anti-tank platoon of the 1st Battalion Beds and Herts Regiment in Egypt and Tidworth in Hampshire.
For over 21 years he was involved with the 51st Odell scouts as assistant leader then as leader and in 1980 was awarded the Medal of Merit.
Sport has been a big part in his life and he is a member of Harrold Badminton Club and Bridgman's Bowling Club. One hobby is wood-carving and one project has been a box with views of 'Old Odell' around the sides.
In the summer Odell Soft Ball Tennis is played on the back garden lawn at Peter's house, and many of the youngsters enjoy this game.
"It is a pleasure to have youngsters in Odell who join in 'village activities'".
Dear Peter, I am sure I speak of many people living in Odell, when I say 'Thank you for all that you have done to make this village retain it's village 'buzz'. So many parents are grateful for the scout movement, and recently the way that you have been involved with the local children, playing football with them. I know they love you, and the way you join in, even going to watch football matches with them. Don't retire from Odell - keep up the good work!! God bless you with good health and lots of happiness in the days ahead. Anne Turner
Ernie Surridge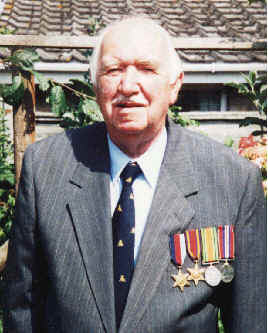 Ernie died peacefully at home on November 7th aged 86 after declining health.
Born at Radwell, he moved to Odell when he was 20years old. He cycled to work every day to the Teeme Shoe co. to work as a skilled toe laster. In 1938 he married Edie (nee Ashton). They had two daughters, Betty and Sheila. Ernie and Edie celebrated their Diamond Wedding in 1998.
During the War Ernie served with the 14th Army in India and Burma and later in Holland. Later he worked at Odell Leather Co., where he served for 29 years and retired in 1979.
As an active member of the Parish Council and Village Hall Committee he was renowned for his liking to take part in a good debate. He enjoyed his garden, winemaking (and drinking it), travelling to many places and meeting people.
Edie and family wish to thank everyone for the many letters, cards, lovely flowers and messages of sympathy. They also thank the doctors and nurses for all their care and everyone involved in the service.
The donation.in aid of the Sharnbrook and Harrold Nurses Patient Comfort Fund amounted to £141.50. Thank you, everyone.
The Surridge family
Tim Asbery
7th November 1945 – 17th November 2000
On November 23rd the church was packed as friends and family joined together to celebrate the life of Tim Asbery who died aged 55 years. Anthony West recalled Tim's love of life and how over his 25 years in Odell he became a trusty friend to a great number of people, contributing to many aspects of village life. His influence and enthusiasm will be remembered by old and young alike; his service to the Parish Council, inventing numerous fun activities for the children of the village and warm companionship over a pint in the Bell are just a few examples. Simon Sweeney told us some colourful stories illustrating Tim's impressive career in 'Real Time' Computer Systems Development where he pioneered much of the technology used to enable Defence aircraft to fly safely at heights as low as 500 feet above all types of terrain. (If only Anthony West had this technology in his Tiger Moth!)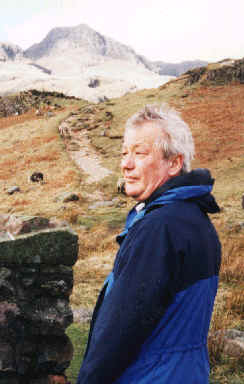 Walking in the hills (pictured above) and chatting with friends in the Bell were two of Tim' greatest pleasures. As Pat says 'his spirit is everywhere' here in Odell and we will reminisce for many years to come, recalling what Tim would have said or done on so many topics or situations.
Everyone sends their very best wishes to Pat and Mark as they rebuild their lives without Tim, Jon Hudson
Thank you Odell
What would we have done without you over these last very difficult months. The love and support you have provided us with has without doubt kept us going. Driving back into Odell from Hospital or wherever is like being enveloped in a great big warm blanket.
Sadly our lives have to begin again without Tim. Mark and I will succeed as his memory will be everywhere around us and his spirit will not allow us to fail.
Thank you for all the lovely letters, cards and beautiful flowers that we have received. It is indeed an honour to live in such a special place.
Bless you all, Pat and Mark
Thank You.
I would like to take this opportunity to thank friends and neighbours for the kindness shown to me on the recent death of my mother, and for the many cards, letters and floral tributes I received. A special thank you to Roma for the collection taken on behalf of my many friends and to Roma and Betty for organising the tea afterwards. Thank you also for the love and care shown to me during my time spent in hospital. Your concern for me is so very much appreciated. Derrick Gadsby
Birthdays
Happy birthday to:
Katherine Sykes 8 on 3rd December
Katherine Freeman 7 on 6th December
John & Elinor Lee 9 on 7th December
Yasmine Nowisky 8 on 23rd December
Rhianna Ford 7 on Christmas day
Evette Allen 11 on 28th December
Hannah Hudson 10 on 17th January
and birthday greetings to anyone else who has a birthday in December or January!
Pensioners Fish and Chip Lunch.
Noreen, Roma and Sarah are putting on a Pensioners Fish and Chip lunch on Wednesday 20th January 2001, 12.00 - 12.30pm. Everybody will be receiving invitations. In the meantime, just remember to keep the date free.
Lavendon Branch of the Royal British legion Poppy Appeal.
The amount collected at 'The Bell' by Mr and Mrs Derek Scott from their customers and village supporters amounted to £61.33p.
Mr. Bloomfield, the Lavendon Branch Chairman, sends his many thanks to all concerned. Florence Shellard.
Round and About
The holly and the Ivy, When they are both full grown,
Of all the trees that are in the Wood
The holly bears the crown.....
With the approach of Christmas my thoughts have turned to the many traditions that surround the Festive Season. People will be planning to decorate their homes with holly and mistletoe and there will be few families that fail to have a Christmas tree in the corner of the room. The custom of bringing greenery into the home in the deep mid-winter is a very ancient tradition and has been with us since the very dawn of our history.
Long, long ago, before Christianity came to these shores, people gathered evergreens during December to decorate their homes and temples for the purpose of driving away evil spirits and to remind them that spring would soon come again with its promise of fresh green growth.
With the arrival of Christianity it was decided to adopt these customs but to endow them with a Christian meaning, and we have continued with these traditions right down to the present day when at each Christmastide we bring into our homes the holly, the ivy and the pale mistletoe.
In the l5th century one writer noted that in London "every house and every parish church is decked with holm (an early name for holly), ivy and with bays" ... whatever, indeed, that was green.
Holly
In early times the holly was known as holm and since the arrival of Christianity has been given a number of new associations. One story goes - that a holly tree stood, bare of berries, which the birds had already eaten, outside the stable where the baby Jesus was born. In honour of Christ's birth the tree straight away bore buds, flowers and then berries - all in one night! The holly was promptly adopted as a symbol of Christ's birth. Another story, as illustrated in the Christmas carol 'The Holly and the Ivy' describes how the prickly holly leaves are depicted as Christ's crown of thorns and the bright red berries represent the blood that Jesus shed on our behalf.
Holly is easy to grow. Many of us keep small bushes in our garden, often sown by the wild birds which had been eating the berries. When allowed to grow to its full majesty the holly can reach 40ft. and can live for 80 years.
Ivy
Ivy is believed to hold magical powers and at Christmas kept houses safe from evil spirits. The people of Shropshire believed that milk drunk from a cup made from ivy-wood would cure the whooping cough.
Ivy is an evergreen shrub that has to seek out the trunks of host trees, or even a wall, for support. The climbing roots of the ivy do not, however, take nourishment from the tree, or strangle or damage their host in any way. An individual ivy plant can live for up to 100 years.
Mistletoe
This plant is firmly placed in the folklore of many countries and some say that it was banned by the Church for this reason, however, many Church accounts dating from the Middle Ages record payments made for mistletoe to be used in the decoration of their Church. At York Minster, for example, there was a special "Mistletoe" ceremony where wrongdoers could come to receive a pardon.
In ancient times it was the custom to hang mistletoe in the doorway of the home to denote peace and hospitality. It was also claimed that a sprig of mistletoe placed in a baby's cradle warded off the fairies and a sprig worn under a hat-band gave protection against evil spirits.
In England mistletoe is associated with kissing. An unwary girl can be kissed under the mistletoe hanging up in the home. In olden times the custom was for a berry to be plucked and given to each girl kissed. When the last berry had been plucked - the kissing had to stop!
May I take this opportunity to wish you all a Very Merry Christmas and a Happy New Year. Barbara Corley
Village Hall Update
In the last edition we asked you to continue putting your old newspapers in the recycling bin situated in the car park. Beds Council DSD dept will continue to offer the service making regular Saturday morning collections.
It was also suggested that as the winter draws on to hold some "open sessions" in the hall where games can be brought along to be played, with refreshments on sale. I am looking to hold such an event on Sunday December 17th from 2.30 - 5pm ish. The idea is that you bring a game/toy, e.g. Scrabble, Monopoly, Pictionary or any of the 1001 different games and we play them!! It is open to all the family. Ideally some extra adult supervision would be welcome (so if you fancy an afternoon reliving your childhood join in). Entrance is free and light refreshments will be on sale, so just turn up.
We are still waiting to have further discussions regarding improved access to the hall and our next meeting will be devoted to discussing what we do next. Time is passing us by very quickly, considering the need to raise funds, seek planning permission, build etc., though first we will need to discuss with villagers what our options could be. In the meantime anyone wishing to use the hall but is worried about the steps etc. let us know and we can make arrangements to ease your access.
Don't forget: Saturday December 2nd disco in the Village Hall. Tickets £4.50. We will have a bar and will be dancing to music from 60s to the current chart.
The Village Hall committee would like to send our best wishes to Derek Gadsby hoping for a speedy recovery. Derek has recently taken charge of cleaning the hall for us and a grand job he does of it too. Rob Lee tel:720730 On behalf of the Village Hall committee
Footnote: Elsewhere in this magazine you will have read of the sad passing of Ernie Surridge and Tim Asbery, both of whom have been great supporters of the village hall over many years. Our condolences are offered to their families.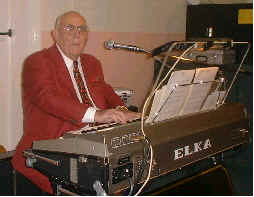 Dennis Love providing versatile and lively music for the dance on November 4th
Don't forget – December 2nd for a disco to suit all ages!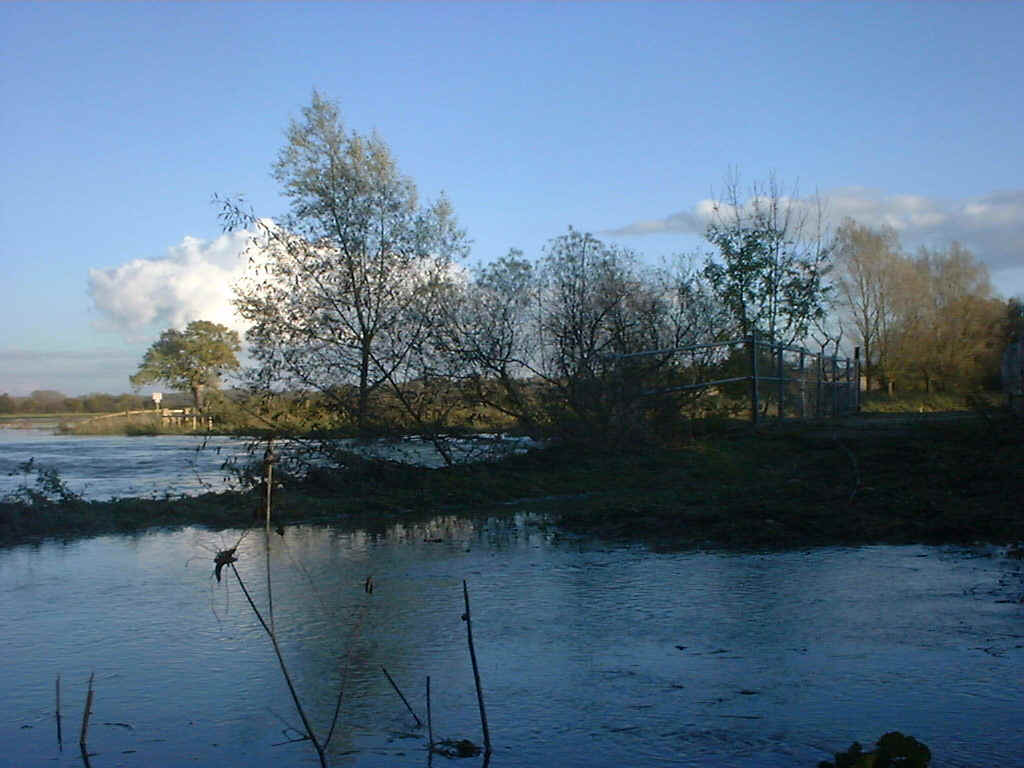 another view of the November floods
The Mill Theatre, Sharnbrook - 2001 Season
Peanuts 50th anniversary Celebration:
Snoopy!!! The musical
Monday 15th January – Saturday 20th January, 7.45pm.
Matinee Saturday 20th - 3.00pm.
This cheesy musical chronicles the hilarious goings-on of the famous Schutltz cartoon characters: Snoopy, Charlie Brown, Linus, Lucy, Peppermint Patty, Sally , and, would we forget? Woodstock – live on stage! A Wonderful Winter Warmer!
*Children welcome.
Tickets: Sat. 20th Matinee £7!
Mon. 15th £7, all other nights £8.
See below for booking details.
Coming in 2001….
All My Sons by Arthur Miller – drama – March 12th – 17th.
Fiddler on the Roof – musical – May 4th – 12th.
Smike – Sharnbrook Youth theatre – musical – July (dates to be finalised)
Whodunnit? By Michael Shaffer – comedy – Sept. 25th – 29th.
Sweeny Todd The demon Barber of Fleet Street – musical thriller – Nov. 9th – 17th..
Bookings may be made one month beforehand from:
Bedford - Central Box Office, Harpur Suite - tel: 01234 269519
Wellingborough - The Castle Box Office - tel: 01933 270007
(Both of the above accept credit card bookings).
Sharnbrook -by returning your booking forms in person to The Village Trader, 28 High Street.
Group Sales - Alison Bean - tel: 01234 781372 – 10% reduction for parties of 10 or more.
Enquiries/Mailing list 01234 782377
All performances start at 7.45pm. Seats can be reserved.
December Diary
2nd 2.30pm Children's Society Interactive Children's Concert, Priory Methodist Church.
2nd Disco, Odell Village Hall.
6th 12.30 Senior Citizen's Christmas Lunch at the rectory.
8th 10.30am Christian Family care Hamper Coffee Morning, Hobbs Green Farm.
12th 7.30pm W.I. Christmas Social Evening at Doreen Wheeler's.
13th Meeting Point and bring and share lunch at Catherine Corkery's, Manor Cottage, Harrold.
16th 10.00am Church decorating, All Saints'.
16th 6.00pm Carol Singing round the village – meet at The Bell.
17th 2.30pm Games afternoon in the Village Hall.
6.00pm Carols by Candlelight, All Saints'.
24th 10.00am Children's Christmas service, All Saints'.
24th 11.30pm Midnight Communion, All Saints'.
25th 10.00am Morning Worship and Holy Communion at All Saints'.
January diary.
9th 7.30pm W.I. at Odell Village Hall.
20th 12.30 Pensioners Fish and Chip Lunch, Village Hall.
Magazine Deadline
Please send all entries for the February 2001 magazine to Tricia Hudson (triciahudson@kbnet.co.uk), Anne Turner or Catherine Corkery by January 12th at the latest. May we remind you that the editorial team exercises the right to edit, shorten or alter any items that are submitted. Also, the opinions expressed in the articles are those of the contributors and are not the responsibility of the editorial team.
We are always on the lookout for interesting short items or photos of local interest for the magazine. Photos can be borrowed and returned after scanning. (or sent as jpeg attachements to the address shown at the bottom)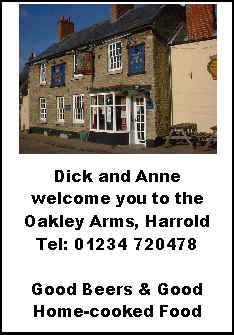 Excellent Bed and Breakfast Accomodation at the Oakley Arms in Harrold (2 miles from Odell by car, or 1 mile through the Country Park) , call +44-1234-720478 for more details (mention the Odell Web site!).
Electronic mail address
triciahudson@kbnet.co.uk

FAX number
01234-721004

Back to the Odell Home Page
---
Last revised: November 26, 2000.